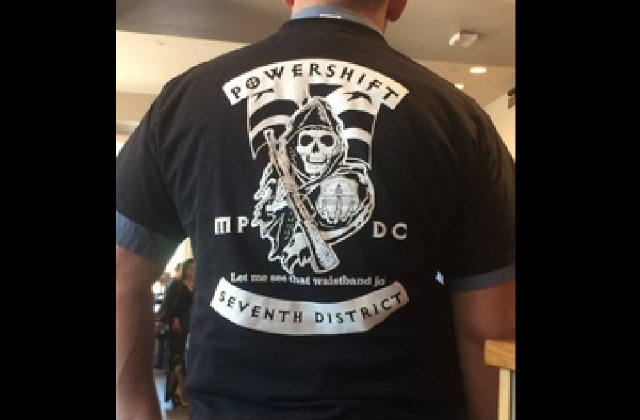 When you come across apparel promoting law enforcement, you probably wouldn't want to see a white power symbol and a grim reaper with a rifle. Washington D.C. officials apologized Friday over a "disgraceful" t-shirt apparently worn by an officer to court.
Statement abt officer's offensive shirt: We take seriously any incidents that may undermine the confidence the community has in our members. pic.twitter.com/ZsnEqUl46w

— DC Police Department (@DCPoliceDept) July 28, 2017
The Metropolitan Police Department said they are investigating it, and placed the officer, who was unnamed in their statement, on non-contact status. That means he's still going to work, but can't do anything with the community (eg. he won't be making arrests any time soon).
The MPD's tweet came after complaints by activists and an inquiry by Washington Post reporter Radley Balko.
Called MPD about this — alleged D.C. cop wearing creepy, racist t-shirt in court. They'll have a statement soon. https://t.co/5b5B5IXmtb

— Radley Balko (@radleybalko) July 28, 2017
Law4BlackLivesDC, an activist group of lawyers and other legal workers of color that describes itself as linked to the Black Lives Matter movement, published a picture of the shirt in a petition issued Wednesday.
They said that on June, 2, 5, and 13, MPD Officer Vincent Altiere was seen wearing an "offensive, racist, and threatening shirt." He even allegedly wore it to court when he was there to testify in a criminal case.
"The shirt displays symbols of police harassment, hate, and death while prominently displaying the symbols and emblems of the Metropolitan Police Department," they said.
The shirt displays a "sun cross" (replacing the letter "O" of "PowerShift"), a well-known and notorious white supremacist symbol adopted by the Ku Klux Klan and other white supremacist hate groups.

Immediately below is the image of the Grim Reaper, a personification of death in the form of a hooded skeleton, holding an assault rifle and a Metropolitan Police Department badge. Below, the shirt reads "Let me see that waistband jo," referring to "jump outs" and the routine practice of demanding to see the waistbands of individuals, who are disproportionately young Black and Brown men, often for no legitimate reason.
Indeed, the Anti-Defamation League has said the Sun Cross is very popular among white supremacists
The petition suggests that because of the prominence of police symbols, it seems like the shirt was made for officers at the Seventh District, not just Altiere. They voiced concern about how cops there are treating locals. 95 percent of people at that district are black and have faced harassment and abuse from law enforcement, Law4BlackLives-DC said. They announced that they formally filed complaints with the MPD's internal affairs office, and the Office of Police Complaints.
Clearly, these requests are going places, but where remains unclear: The group demanded that Altiere and any officer who wore the shirt be fired. Also, that cops who failed to report these shirts be "severely disciplined," and that officials investigate racism and abuse of power by their cops.
LawNewz.com has reached out to Altiere for comment.
[Image via Law4BlackLivesDC]
Have a tip we should know? [email protected]