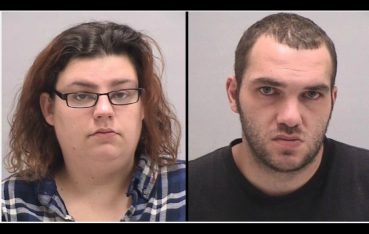 A Connecticut couple was apparently so turned on after a meal at McDonald's that they allegedly decided to get after it as soon as they reached their car in the restaurant parking lot — with a six-year-old child in the back seat.
According to the local affiliate FOX 61, police say two McDonald's employees called 911 to report that it appeared two people were having sex inside a vehicle in the parking lot and that "a small child was seated in the back, watching" as it all went down.
Police responded to the scene and said they discovered a man in the front seat along with a "partially naked" woman.  A six-year-old child was found in the back seat of the car and police described the child as "alert and awake"
Rory Clark, 27, and Kimberly Onorato, 28, were identified as the adult occupants of the vehicle and they reportedly tried to play it off, telling officers they were simply "cuddling."
Officers seemingly did not buy the alleged defense and both were charged with second-degree breach of peace and impairing the morals of a minor.
It is unclear what happened with the child.
Clark and Onorato were released from custody after each posted a $5,000 bond.
[image via police]
Have a tip we should know? [email protected]