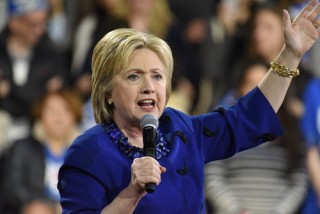 On Friday, the Brooklyn office for Hillary Clinton's presidential campaign was evacuated due to a letter containing a suspicious white powder. Local police, the Secret Service, the NYC Office of Emergency Management, and the NYC the Department of Health are looking into this, NYPD Detective Annette Shelton told Law Newz.
She said that the envelope actually first ended up at the nearby mid-Manhattan office, but then a staff member took it to Brooklyn. (For now, nobody's publicly explaining why the transfer happened.) There, someone opened the letter and discovered the powder. Cue evacuation of the entire 11th floor.
Four people were exposed to the substance, but nobody has reported injuries or been hospitalized, Shelton said. Initial testing showed it "may be non-hazardous," but as of Saturday morning, the Department of Health is still testing it just to be sure. No suspects have been named.
We've reached out to the Clinton campaign for more information, and will update when we hear back.
This incident might remind you of the 2001 anthrax attacks. A week after the 9/11 terror attacks, letters containing deadly bacteria were mailed to several media outlets nationwide, and the offices of the officers of Senators Patrick Leahy (D-Vermont) and Tom Daschle (D-South Dakota). Five people died and 17 people got sick, but no one has ever been arrested. One of its long-term legacies has been to inspire hoaxes and false positives.
[image via Shutterstock]
–
Follow Alberto on Twitter (@Alberto Luperon)
Have a tip we should know? [email protected]