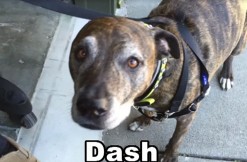 This is a story about how Chase Bank reportedly stalled an online payment because a dog's name sounded like that of a terrorist organization.
See that doggie? That's Dash. This pitbull mix has no confirmed link to ISIS. He belongs to 55-year-old Bruce Francis, a San Francisco man who is confined to a wheelchair because of Multiple Sclerosis. As one does in this kind of living situation, the human hires out a dog walker, and that dog walker needs to get paid regularly.
So Francis wrote an online check in early March with 'Dash' included the memo. But then the dog walker later explained the check hadn't arrived. A quick review with Chase only made things weirder. He learned that the honest-to-God Office of Foreign Assets Control, a branch of the U.S. Treasury, flagged the payment.
Turns out "Dash" looks a lot like "DAESH." It's a disrespectful term, something you'd call the terrorist organization ISIS if you were a critic in an Arabic-speaking country.
"I thought to myself, 'Great, they're stopping the world's stupidest terrorist,'" Francis said.
He sorted things out with the government, who realized that no, the nine-year-old service animal was not, in fact, affiliated with nefarious activities.
"After Brussels I thought, 'If this could have helped law enforcement stop someone or find out who was funding the terrorists, a temporary inconvenience is OK," Francis told the New York Daily News.
Explosions tore through an airport and subway station in Brussels, Belgium on Tuesday, killing over 30. ISIS claimed responsibility for the attack.
A Chase spokesperson told KTVU they were just doing their job.
"If a name on the OFAC list appears on a payment, we are required to review," the statement read. "This is an important part of ensuring that crime does not filter through the U.S. banking system. In this instance, the payment was flagged, reviewed and eventually released."
[h/t KTVU]
–
Follow Alberto Luperon on Twitter (@Alberto Luperon)
Have a tip we should know? [email protected]