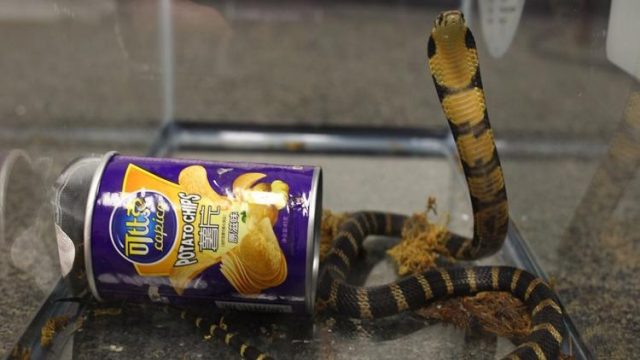 A California man pleaded guilty on Thursday to smuggling more than 20 cobra snakes into the United States. His operation, which included him shipping turtles to Hong Kong in exchange for the snakes, was discovered when customs officials found three king cobras packed in a potato chip can that was sent to his home.
The officials intercepted the package to Rodrigo Franco in March, also finding three albino Chinese soft-shelled turtles inside. Franco also tried to ship six other turtles to Hong Kong that same day, wrapping them in socks, authorities say.
Officials took the snakes out of the package, and allowed a postal worker to deliver the parcel (with just the turtles inside) to Franco's home. Customs officers were on the scene soon after the delivery was made, and after Franco received it, they entered his home with a search warrant. Court documents say that once inside, they found a crocodile, diamondback terrapins, mud turtles ,and alligator snapping turtles.
Neither the seller of the snakes nor Franco had the mandatory certificates or paperwork filed for the import or export of king cobras, but prosecutors accused him of using an alias to remain undetected. Franco now faces up to 20 years in prison, three years of supervised release, and a $250,000 fine, with sentencing to come at a hearing in December.
[Image via US Attorney's Office]
Have a tip we should know? [email protected]