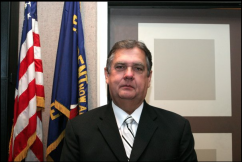 An Alabama state lawmaker wants to castrate sex offenders—no, not personally, but nevertheless. State Representative Steve Hurst is seeking permanent physical punishment for those convicted of sexual offenses against children 12 years old and younger. Hurst wants convicted offenders to be castrated before leaving the custody of Alabama's Department of Corrections. The bill would require the surgical castration of male and female offenders. "They have marked this child for life and the punishment should fit the crime," Hurst told WIAT-TV after filing the legislation.
"I had people call me in the past when I introduced it, and people have called me and said don't you think this is inhuman? I asked them what's more inhuman when you take a little infant child and you sexually molest that infant child when the child cannot defend themselves or get away and they have to go through all the things they have to go through, if you want to talk about inhuman, that's inhuman," he said.
This filing marks Hurst's third attempt to pass the castration bill over the past decade. Rep. Hurst apparently believes in a weird twist on "an eye for an eye" justice, where legal remedies should match deplorable behavior—meet him at the lowest common denominator. His logic sounds awfully Trump-esque: if ISIS cuts off heads then the U.S. should torture!
Hurst believes this sort of punishment would make sex offenders think twice, because, as we know, criminals, and sex offenders specifically, weigh the pros and cons of their acts prior to committing them.
"If we do something of this nature it would deter something like this happening again in Alabama and maybe reduce the numbers," Hurst said. Maybe, and maybe it would violate the Eighth Amendment's prohibition on "cruel and unusual punishment."
[h/t Q13Fox]
[Screengrab via Facebook]
Have a tip we should know? [email protected]