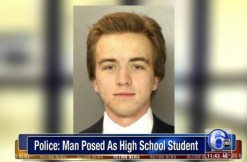 Remember that "teen" who police say was really a 23-year-old Ukrainian guy? He was charged Friday with sexually assaulting a 15-year-old student. Police are tacking on charges of statutory sexual assault and corruption of minors. He was already arrested Tuesday for identity theft, theft, and tampering with public records.
This development stems from an alleged 2014 sexual relationship.
In the United States with a now-expired visa, Artur Samarin enrolled in fall 2012 at a Harrisburg, Pennsylvania high school telling people he was a kid named Asher Potts, according to investigators. This dude also was a member of the National Honor Society, as well as ROTC and Naval Sea Cadet programs. He was even set to graduate in June until a tipster contacted cops in December, and pointed them in his direction.
Two people helped him make up a fake identity and get into the school, according to court records obtained by Pennlive.com. Police say the investigation remains live, and other arrests are likely.
[h/t Associated Press]
[image of Samarin via ABC screengrab]
–
Follow Alberto Luperon on Twitter (@Alberto Luperon)
Have a tip we should know? [email protected]