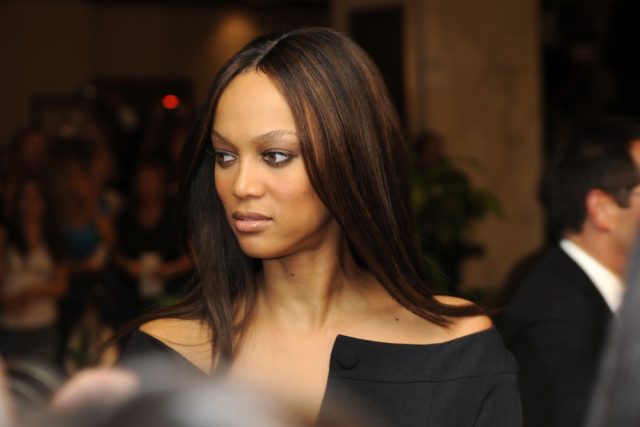 A woman who performed a song with her husband on "America's Got Talent" is suing the show's producers, claiming that host Tyra Banks humiliated and put her hands on their daughter. The contestant, who is going by "Jane Doe" to stay anonymous, is suing on behalf of her daughter, "Mary Doe," who is a minor.
The lawsuit describes Jane's experience with her husband performing on the reality competition program. She says they sang a song about her relationship with Mary, which is Mary's favorite song of theirs. When showtime arrived on March 19, 2017, however, the lawsuit claims that Banks and the show's producers told Mary "to act embarrassed and annoyed at her parents' performance," according to the complaint obtained by Deadline. Jane says that she and her husband were also humiliated by the audience and judges.
In addition to this, the lawsuit alleges that Banks herself "verbally abused" Mary by making fun of her parents and their song, as well as implying that her conception was an accident, all while the cameras rolled. On top of that, Banks allegedly pulled Mary's hair and "physically manipulated" her.
Jane Doe claims that since that day, Mary has suffered from depression, and gets anxious and nervous whenever she thinks about the alleged incident, or about footage or herself or her parents being used on television or the internet.
Banks herself is not named in the lawsuit, but producers Marathon Productions, Inc., and 10 unnamed defendants, are the targets of the lawsuit, which claims intentional and negligent infliction of emotion distress, and civil assault.
LawNewz.com reached out to Fremantle Media, the parent company of Marathon Productions, for comment, but they have not responded.
[Image via Shutterstock]
Have a tip we should know? [email protected]