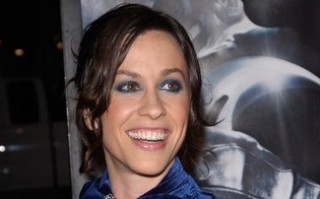 A lawsuit filed Tuesday in Los Angeles claims that Jonathan Schwartz, former business manager of Alanis Morissette, stole millions from the singer during years of working together. According to The Hollywood Reporter, Morissette had fired Schwartz in March 2016 after he failed to answer questions about her finances, and her new manager, Howard Grossman, found $4.7 million in unauthorized, unexplained transfers from Morissette to Schwartz.
The songstress is now suing Schwartz and GSO Business Management, where he worked. The complaint says that Schwartz gave Morissette the impression that she was in solid shape financially, while taking money from her at the same time. According to the lawsuit, Schwartz gave different explanations for the transfers, ultimately saying that he invested the money in "one or more illegal marijuana 'grow' businesses."
Morissette's lawsuit also accuses Schwartz of improperly using her money, paying expenses by taking funds from accounts that were not supposed to be touched. The complaint says he told her that she was in such good shape financially that "her future grandkids were 'set for life,'" leading Morissette to turn down performances, thinking she didn't need the money. She is suing for $15 million.
GSO is suing Schwartz as well, and their website currently does not name him as a partner. They're seeking to have him expelled from the firm, in addition to more than half a million dollars in advance pay, plus punitive damages. They claim he also owes the government money in taxes.
GSO said in a statement that Schwartz will not be working with their clients going forward, the Wall Street Journal reported. A spokesman for the firm contradicted some of Morissette's claims, saying that some of her cash requests were larger than her complaint indicated. The spokesman also said that members of the firm besides Schwartz had told her she was over budget, and that the singer had a separate manager for investments, who worked for a different company.
[Image via Shutterstock]
Have a tip we should know? [email protected]