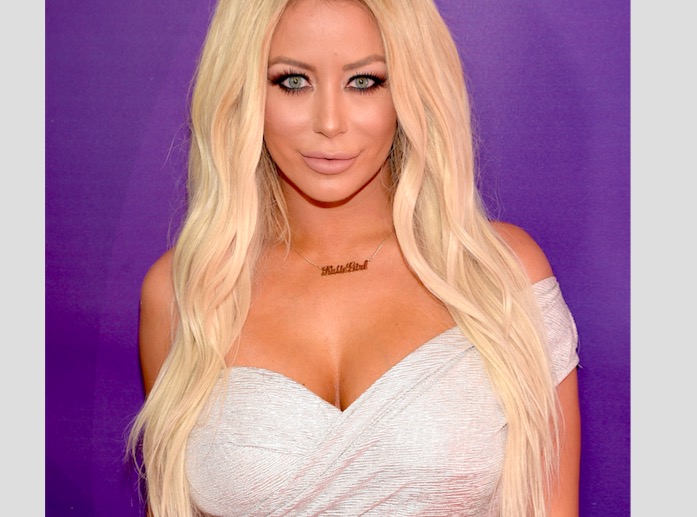 One of the things that's funny-not-funny about the change in our country since the time Donald Trump became president is how things that once would have constituted sordid scandals now barely seem to register. One such alleged scandal-that-would've-been is the Donald Trump Jr.– Aubrey O'Day–Celebrity Apprentice trifecta.
I'll catch you up.
Celebrity Apprentice aired for 7 seasons with Donald Trump as host. Each season, a group of has-beens and hope-to-becomes vied for The Donald's ultimate pat on the head – which would come in the form of a sizable donation to a charity of the winner's choice. As with the regular Apprentice series, Trump was always flanked by two "advisers;" the advisors for Celebrity Apprentice 5 alternated from episode to episode, but always included a starring role for Donald Trump Jr.
Now that the split up between Don Jr. and his wife Vanessa Trump is big news, tales of illicit affairs are springing up on a daily basis. One such story, reported by multiple sources, is that after meeting on the set of Celebrity Apprentice, Don Jr. and Aubrey O'Day – one of the show's contestants — began an affair lasting several months. O'Day did pretty well on the show, making it to the penultimate episode, behind only Clay Aiken and winner Arsenio Hall.  I'll leave the tabloids to their task of breaking down the grizzly details. Frankly, I've never heard of Aubrey O'Day, and I'm not all that fascinated in the idea of a postmortem on a Trump marriage.
However.
I am interested in the violation of federal laws, and if there had been a sexual relationship between Donald Trump Jr., and one of the most successful Celebrity Apprentice contestants, that's a potential legal problem too. Sure, compared to scandals like paying hush money to porn stars and colluding with Russia, what happens behind the scenes of a trashy TV show doesn't seem all that important. Still, federal laws can't be ignored on the basis that "it could be worse."
We are all so jaded these days. We're all experts on which reality tv is actually staged, which news is fake, and which documentaries are unreliably one-sided. But back in 1960, rigged television shows were kind of a big deal; so much so, in fact, that the Eisenhower administration passed laws and regulations to prohibit fixed television programs. The 1950s and 60s were the age of the famed "Quiz Shows," and after several major scandals revealing that the outcome of shows such as Dotto, The $64,000 Challenge, Twenty One, and Tic-Tac-Dough had been fraudulently manipulated, federal law was updated to include prohibitions of what President Eisenhower called, "a terrible thing to do to the American people."
The main statute, 47 U.S. Code § 509, applies to broadcasted "contests," in which "any money or any other thing of value is offered as a prize or prizes to be paid or presented by the program sponsor or by any other person or persons, as announced in the course of the broadcast." Unquestionably, every season of The Apprentice constitutes such a contest. If you've watched the show, you know that it's nearly impossible to get to a single commercial break without hearing how valuable a chance to work near Donald Trump would be. And for the Celebrity Apprentice, it's even clearer; those contestants get a cash prize to donate as they wish.
Here's what the statute prohibits:
It shall be unlawful for any person, with intent to deceive the listening or viewing public—

(1)To supply to any contestant in a purportedly bona fide contest of intellectual knowledge or intellectual skill any special and secret assistance whereby the outcome of such contest will be in whole or in part prearranged or predetermined.

(2)By means of persuasion, bribery, intimidation, or otherwise, to induce or cause any contestant in a purportedly bona fide contest of intellectual knowledge or intellectual skill to refrain in any manner from using or displaying his knowledge or skill in such contest, whereby the outcome thereof will be in whole or in part prearranged or predetermined.

(3)To engage in any artifice or scheme for the purpose of prearranging or predetermining in whole or in part the outcome of a purportedly bona fide contest of intellectual knowledge, intellectual skill, or chance.

(4)To produce or participate in the production for broadcasting of, to broadcast or participate in the broadcasting of, to offer to a licensee for broadcasting, or to sponsor, any radio program, knowing or having reasonable ground for believing that, in connection with a purportedly bona fide contest of intellectual knowledge, intellectual skill, or chance constituting any part of such program, any person has done or is going to do any act or thing referred to in paragraph (1), (2), or (3) of this subsection.

(5)To conspire with any other person or persons to do any act or thing prohibited by paragraph (1), (2), (3), or (4) of this subsection, if one or more of such persons do any act to effect the object of such conspiracy.
Do I know for a fact that there was pillow talk between Don Jr. and Aubrey O'Day in which he gave her advance notice of challenges? Or that there was some exchange of sex-for-favorable-treatment-in-the-boardroom? Nope. What I do know is that it just doesn't look good. It looks shady beyond measure, and someone should probably do some digging. And let's get some perspective. When Twenty One got Herb Stempel to pretend to choke on a question about the 1955 Best Picture winner, it sparked a grand jury empanelment, an official Congressional investigation, and ultimately, major legislation. Now that we're making America great again, I thought we were all on board with the idea of reclaiming that 1950s innocence.
[image via GETTY Images]
This is an opinion piece. The views expressed in this article are those of just the author.
Elura Nanos - Columnist & Trial Analyst, Law & Crime; CEO Lawyer Up