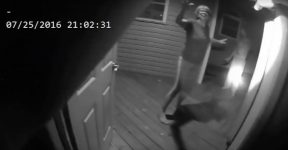 The school resource officer (SRO) who confronted 17-year-old Austin Wyatt Rollins at Great Mills High School in Maryland on Tuesday, resulting the in shooter killing himself, has a history of restraint, video from 2016 shows.
The sheriff's deputy, identified as Blaine Gaskill, can be seen responding to a domestic disturbance call where a homeowner, later determined to have been under the influence and found guilty of first-degree assault and using a firearm in the commission of a crime of violence, pointed a gun in his direction.
Watch as the situation goes sideways around the two-minute mark:
Here's how Southern Maryland News Net described the incident under the YouTube video:
On Tuesday, July 26, 2016, St. Mary's County Sheriff's Office Deputy Blaine Gaskill responded to the 45000 block of Stoney Run Drive in Great Mills for a disturbance. Upon arrival, Deputy Gaskill made contact with a resident of the home, who advised the argument occurred in an upstairs apartment. As the deputy made his way to the apartment, with the homeowner, he observed a man standing on the front porch pointing a handgun at him. Deputy Gaskill gave multiple commands for the subject to drop the weapon, but he refused. Ultimately, the suspect, Pekka Robert Heinonen, 59, of Great Mills, complied and was placed under arrest. He was transported to the St. Mary's County Detention Center and charged with First Degree Assault, Reckless Endangerment, and Use of Firearm in the Commission of a Felony. A preliminary breath test at the Detention Center confirmed the suspect was under the influence during the incident.
Gaskill, who is also a SWAT officer, is being hailed as a "hero" for his swift response while to the school shooting on Tuesday, even as the shooter fired a round "simultaneously."
Gaskill is pictured on the left in the tweet below.
Gaskill is being credited for preventing more injuries or deaths.
Both a 16-year-old female and 14-year-old male were shot by the deceased shooter. The male was listed as stable, while the female remains in critical condition.
Update: The 16-year-old victim, Jaelynn Willey, has died after suffering a gunshot wound to the head. She was taken off of life support by her family Thursday night.
[Image source: YouTube/screenshot]
Have a tip we should know? [email protected]