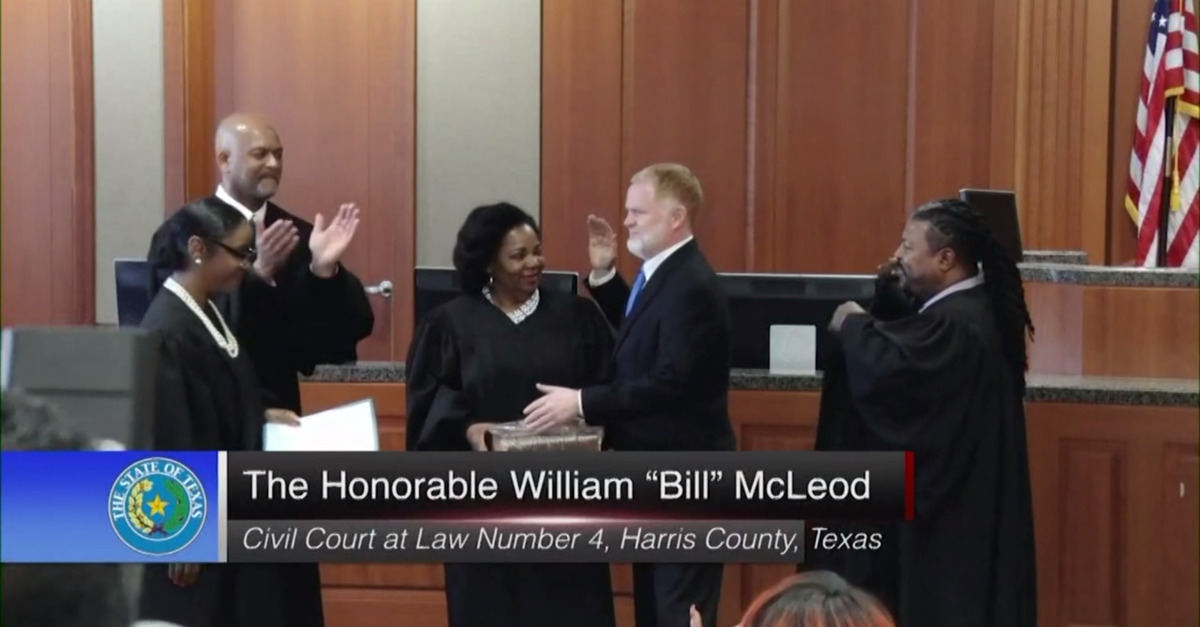 The joke is on him? A recently elected judge in Texas appears to have unintentionally resigned on April Fools' Day.
Harris County Civil Court Judge Bill McLeod on Monday announced his plans to run for the Supreme Court of Texas. The problem for McLeod is that a quirk in the Texas Constitution considers such an announcement an automatic resignation.
Contained in Article 14, Section 65, the language in question reads:
If any of the officers named herein shall announce their candidacy, or shall in fact become a candidate, in any General, Special or Primary Election, for any office of profit or trust under the laws of this State or the United States other than the office then held, at any time when the unexpired term of the office then held shall exceed one year and 30 days, such announcement or such candidacy shall constitute an automatic resignation of the office then held, and the vacancy thereby created shall be filled pursuant to law in the same manner as other vacancies for such office are filled.
According to local CBS affiliate KHOU, County Attorney Vince Ryan will bring the matter up with Harris County commissioners next Monday. Meanwhile, McLeod is organizing his supporters in a bid to help his case–but he's keeping his own mouth shut this time while letting those supporters do the heavy lifting.
Daniel Cohen is a McLeod supporter who spoke with the outlet about the judge's plan to keep his job.
"Democracy, fairness, justice, the will of the people all of that is tied up in this decision by the commissioners," Cohen said.
The Texas Constitution also allows county commissioners the option of keeping McLeon on as a holdover judge until a special election occurs. KHOU's legal analyst Gerald Treece floated that idea to Cohen who said, "I think that's a perfectly legal option and they should take it."
Judge McLeod isn't currently answering questions about his strategy going forward, according to the outlet, because he is "[c]oncerned about ethics violations," but his lieutenants Cohen and Kandice Webber are currently working on a social media campaign to encourage other supporters to show up in full force at the next county commission meeting in order to show the court that McLeod has a well of goodwill and support in the community.
"Our judges are human," Webber told KHOU. "This would not be the first time that a judge has made a mistake. I would beg the court to leave him where he is. This is where Houstonians want him. This is where Harris County wants him, and we made that very loud and clear at the ballot."
McLeod boasts an efficient track record during his brief time in office.
When he took the gavel away from his GOP predecessor, the court had 1400 cases that had yet to be assigned a docket. Within 90 days, all of those cases had been either resolved or docketed.
A social media flyer highlighting McLeod's record also notes that the judge oversaw 14 jury trials during his three months in office and claims that he "works an average of 13 hours per day" which the flyer also says is "[m]ore than any other judge."
A Democrat and part of the massive blue wave that swept away every single Republican judge in Harris County during last year's midterm election, McLeod won the Civil Court No. 4 race with 55 percent of the vote.
[image via screengrab/KHOU]
Have a tip we should know? [email protected]