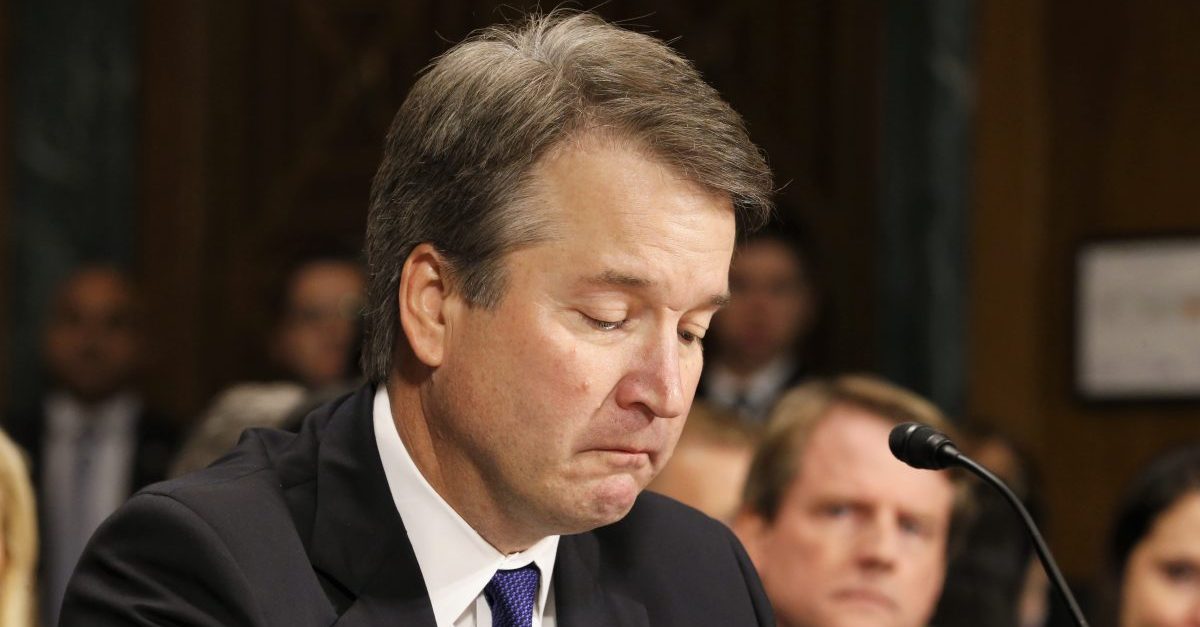 On Monday, Supreme Court Justice Brett Kavanaugh promised to exercise his role on the nation's high court with "no bitterness" following the brutal confirmation battle in which he was accused of sexual misconduct by multiple women.
Kavanaugh's paean to non-partisanship doesn't mean that widespread bitterness, scorn, and acrimony won't follow his name. It seems, however, that exactly the opposite is true. Quite literally.
The url BrettKavanaugh.com now directs users to several resources for sexual assault survivors.
A project of non-partisan judicial reform organization Fix The Court, the website's splash page features a black-and-white image of the U.S. Supreme Court emblazoned with the phrase: "We Believe Survivors."
The newly-minted justice's namesake website notes:
The start of Brett Kavanaugh's tenure on the Supreme Court may look like a victory for one interest group or another. But, more importantly, it is putting a national focus on the issue of sexual assault – and how we as a country can and should do more to prevent it and to support those who have experienced it.
The introductory passage then praises the thousands of Americans–women and men–who came forward during the contentious confirmation battle to share their own experiences along the lines of the allegations leveled against Kavanaugh by Dr. Christine Blasey Ford, Deborah Ramirez, and Julie Swetnick.
"This past month, thousands of survivors came forward to tell their stories," the page continues, "We applaud your bravery. We believe you." Users are then provided links for the National Sexual Violence Resource Center, the Rape Abuse and Incest Network (which operates the Sexual Assault Hotline), and the nationwide, university-focused organization End Rape on Campus.
In a statement, Fix the Court Director Gabe Roth noted the history and reasoning behind the campaign. Roth said:
Three years ago, I bought a handful of URLs that I thought might be useful in any forthcoming Supreme Court confirmation battles. Included were BrettKavanaugh.com, .org and .net. Today I am redirecting those three to a landing page with resources for victims of sexual assault. I believe Dr. Ford. I believe Prof. [Anita] Hill. I also believe that asking for forgiveness is a sign of maturity and strength, not weakness.
Roth's statement continued, "Watching last night's White House event and listening to the President again cast doubt on veracity of Dr. Ford's claims, while not hearing a word of contrition from the newest justice, was difficult for many Americans who have experienced sexual misconduct firsthand."
"Fix the Court stands with you. We believe you, and we support you," the press release concludes.
In an email to Law&Crime, Roth contrasted Kavanaugh's personal elation with the outrage and pain felt by many millions of Americans who have experienced sexual assault.
"It's an exciting day for the newest justice," Roth said. "But for Americans who have experienced sexual assault, today is a reminder that we as a country needs to do more to ensure that their pain is acknowledged, their stories are heard and that there are ample resources for healing and justice."
Roth also noted:
[Kavanaugh] can help push the court in a more modern direction, but his affect and overall lack of contrition have been harmful to the institution in which he now sits.
[image via Michael Reynolds-Pool/Getty Images]
Follow Colin Kalmbacher on Twitter: @colinkalmbacher
Have a tip we should know? [email protected]