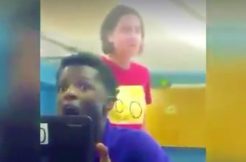 In Baltimore, Maryland, a teacher is out of a job after using the N-word on her students. It started when the woman was caught on tape grabbing and lashing at out at one kid at Harlem Park Elementary/Middle School. As seen on video, she kicks him out of class, but after all that, she keeps screaming at the rest, apparently disappointed with their general performance, calling them "idiots." Then she drops the bomb.
"You are going to be a bunch of broke-ass n—-rs who get shot," she said.
Here's video, obtained by journalist Shaun King:
Guess how that turned out. Here's the statement from Baltimore City Schools, obtained by WBFF:
At Baltimore City Public Schools, we are committed to creating positive and equitable learning environments in school communities where all members are welcome, supported, and valued. No form of discriminatory behavior of any kind is or will be tolerated.
The teacher no longer works with the school district. We've reached out to the Harlem Park principal for more information, and will update when we hear back.
[Screengrab via cell phone footage]
Have a tip we should know? [email protected]