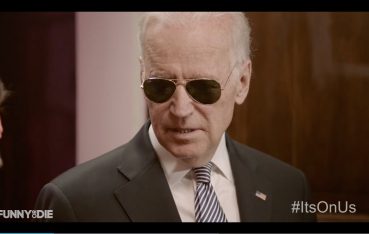 Vice President Joe Biden steals the show with his co-starring role in a new, sort of awkward college sexual assault PSA video produced by Funny or Die.
In the video, the vice president appears alongside actor Adam Devine as the two pose as an undergrads attending a college party.
WATCH:
"So, I am back at the White House, talking to Barack Obama," Vice President Biden says.
As the students awkwardly stare at him, Biden suddenly realizes he may have blown his cover. He then tries to play it off, saying, "I mean, I am at the frat house, watching a program about llamas on YouTube. Ya know?"
The two then takeover the DJ booth, but the video quickly turns serious as Biden and Devine address the issue of sexual assault on college campuses.
The PSA is part of the White House's "It's On Us" campaign against college sexual assault.
[Screengrab via Funny or Die]
Have a tip we should know? [email protected]