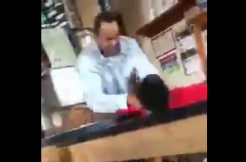 In footage posted to social media, a teacher's aide appears to assault a high school student. He seems to push the kid over a table and several chairs, then hold him down with one hand, apparently at the neck.
"What did I tell you, motherf—-r?" the teacher's aide said, even calling the student the n-word. You can watch the video here. Warning for shocking content:
CBS 58 confirmed that the man worked at Bay View High School in Milwaukee. He's 39-years-old while the student is 14. They had reportedly been arguing leading up to the incident, which occurred Wednesday. The student on the video reportedly went to a hospital after receiving minor injuries.
"[The student] was talking stuff and then the teacher came, slammed him on the chair, and started choking him saying you don't know who you're [expletive] messing with," a 14-year-old witness told CBS 58.
Students said that the kid had been "disrespectful" to the adult.
"This teacher's just bogus," said a student. "But then again, the kid shouldn't have been talking stuff."
The man was arrested, and Denise Callaway, Director of Communications for Milwaukee Public Schools, confirmed to CBS 58 that he's getting fired.
The Milwaukee County District Attorney's Office will decide if criminal charges are filed.
[screengrab via YouTube]
–
Follow Alberto Luperon on Twitter (@Alberto Luperon)
Have a tip we should know? [email protected]