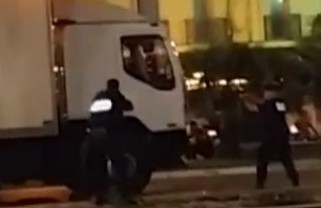 Video has been released of French police shooting at the man who killed at least 84 and injured 100 people on Thursday, during a Bastille Day celebration in Nice, France. This individual reportedly shot at the crowd, then ran people over with a large, white truck, according to The New York Daily News.
Police surrounded the truck after it stopped, and riddled the cab with bullets, apparently killing him. Video, obtained by The Associated Press, can be seen here. Please note the footage is graphic:
And here's a picture of the aftermath, via a local news outlet:
DIRECT. Au moins 75 morts après qu'un camion a foncé sur la foule après le feu d'artifice https://t.co/pmXcStZEPr pic.twitter.com/wGTeXKDJXl

— Nice-Matin (@Nice_Matin) July 15, 2016
French officials have called it a terror attack.
"All of France is under threat from Islamist terrorism," French president Francois Hollande said at a press conference, according to The Guardian. The perpetrator has been identified as a Tunisian-born Frenchman, but his name has not been released.
Two Americans were killed in the attack: a man, and his 11-year-old son.
France has struggled with several recent, high-profile terror attacks motivated by Islamic extremism. This includes the January 2015 mass shooting at the Charlie Hebdo office, and the November 2015 Paris terror attacks. The latter incident left 130 people dead.
Update — July 15, 3:00 p.m. EST: Authorities have identified the killer as Mohamed Lahouaiej Bouhlel, according to CNN.
–
Follow Alberto Luperon on Twitter (@Alberto Luperon)
Have a tip we should know? [email protected]