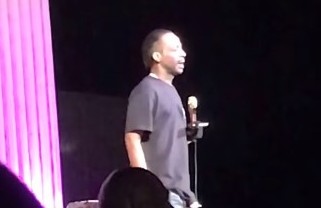 This needs to be stated from the get-go for those who don't know. Katt Williams is a top comedian. He's not some random guy. This is a man with HBO specials under his belt, a healthy list of guest appearances on excellent shows like The Boondocks, and the professional respect of peers like Dave Chappelle.
So we all needed an explanation when video emerged of a Tuesday fight where the 42-year-old comedian got beat up by a 17-year-old after throwing the first punch. Thankfully, a fan taped Williams talking about the incident at a Friday performance at the Barclays Center in Brooklyn.
Williams had been playing soccer with some kids in Gainesville, Georgia. Good old harmless fun, except a 17-year-old on the other team had been talking smack and cursing him out the whole time, according to him.
"But then as the game was going on, this feels like a set-up," he said on stage.
Williams has been facing a whirlpool of legal problems in recent weeks. Five women alleged he punched one of them, and then held them a gunpoint on Feb. 28. He wasn't arrested then, but he was cuffed the next day, when he allegedly attacked a pool supply store clerk in Gainesville, Georgia in response to being called the N-word. Then on March 2—we're not even halfway done with this list—police responded to a report that he got into a fist-fight when men who made fun of his height.
March 6: he got into a fight on stage at a concert in Philly. March 8: After one of his bodyguards was allegedly threatened by Williams and attacked by his co-workers, Sheriff's deputies in Hall County, Georgia arrested the comedian. He was booked on suspicion of aggravated assault, terroristic threats, and false imprisonment, not to mention drugs and weapons charges after authorities discovered marijuana and firearms when they raided his home. March 17: He was sued by actress Jamila Majesty for allegedly assaulting her years ago.
Cut to March 23, and here Williams is, telling that 17-year-old that his language was unacceptable, and needed to stop after the boy kept following him around. Or as the comedian put it, "I just want you to have a bloody mouth so that you can have that lesson later that that's what happens when you say slick s—t to grown-ass men."
So he was trying to teach the kid a lesson. As the video showed, Williams threw the first punch, and he tussled with the boy-less-than-half-his-age until the child got his back and put him in a rear naked chokehold.
William insisted that claims he lost were exaggerated. "If you watched that video and really think I was getting choked out by a strong teenager, then why don't you catch me when I'm out in public, and put your little fragile ass arm around my neck, and why don't you choke me to sleep, n—a. I'm Semper Fi till I die, Marine corps, b—h."
You can see Williams' Friday set here. Warning for strong language:

The kid, Luke Wash, spoke about the incident with CBS 46.
"If he hit me, I could've just turned the other cheek," he said. "I know that's what Jesus would do, but sad to say, I'm not Jesus."
You can see video of the fight here:
Related charges have not been announced yet. Since the comedian is out on bail, police told TMZ they're investigating whether he violated any conditions of his freedom.
[h/t NY Daily News]
–
Follow Alberto Luperon on Twitter (@Alberto Luperon)
Have a tip we should know? [email protected]