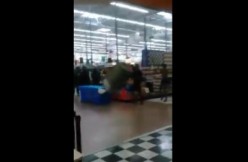 30 people were linked to a Sunday brawl at a Walmart in Gates, New York. It allegedly started after two 17-year-old girls made fun of a 24-year-old woman's dress, NBC News reports.
Police arrested four people, including two adults, a minor charged with disorderly conduct, and one of the teen girls, who allegedly threw a can of food at a 52-year-old man's head. She has been charged with second-degree assault, second-degree harassment, and disorderly conduct, The Democrat and Chronicle reports.
Video of the incident was posted Tuesday to Facebook. In it, you can see someone throwing a garbage can, people screaming, police intervening, etc. (Warning for language.)
Gates Police Chief Jim VanBrederode told News10 some people grabbed baseball bats from the sporting good section.
"The adults jumped right in with the kids and this is what it turned into," he told WHEC.
–
Follow Alberto Luperon on Twitter (@Alberto Luperon)
Have a tip we should know? [email protected]