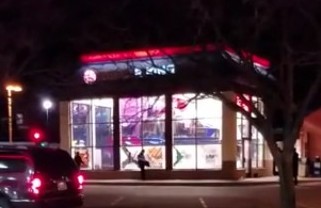 A video posted to YouTube shows employees smashing in the windows of a Minnesota Burger King on Friday night. Why? Because a prank caller apparently told them to.
Sgt. Rick Boone of the Coon Rapids Police Department confirmed this hot mess to the Star Tribune.
"Officers arrived and found that the manager and employees of the Burger King were smashing out the windows," Boone said. "The manager explained they'd received a phone call from a male who identified himself as a fireman who said there were dangerous levels of gas in the building, and they had to break out all the windows to keep the building from blowing up."
Boone said the manager really did think the building was going to explode. You're forgiven if you need to stop, and reread all of this. Boone would not reveal the names of the Burger King staff. The damage cost is not available, either.
This is not the first time this kind of prank has worked. The details from an older story are identical. In January, a Burger King staff in California smashed their restaurant's windows after a caller allegedly pretended to be a fireman, and falsely reported a gas leak.
[h/t Star Tribune]
[screengrab via YouTube]
–
Follow Alberto Luperon on Twitter (@Alberto Luperon)
Have a tip we should know? [email protected]