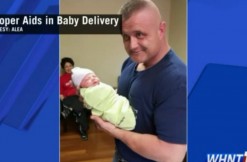 A state trooper helped a speeder deliver his wife's baby Sunday. Look at that picture of the trooper and the infant.
Michael Kesler, an Alabama State Trooper, was just doing his job when he pulled over a speeding Danny Lowe at 6:40 a.m., according to authorities. Many people have awful excuses for breaking the speed limit. Turns out Lowe had a good one: His wife Shawna Lowe, in the passenger seat, was going into labor. They'd reportedly been rushing to the hospital when Kesler stopped them.
So they delivered the baby right there on U.S. 72, according to authorities.
"Without hesitation, Trooper Kesler quickly acted and assisted in the delivery of the baby," said Secretary of Law Enforcement Spencer Collier, according to WHNT.
Kesler "was awesome," Danny Lowe said, according to CBS. "He settled me down."
When it was all done (it was a boy), the Trooper reportedly called an ambulance, and after the family was moved to the hospital, he brought them gifts: flowers, cupcakes, and what both WHNT and CBS described as a "starter kit" for new parents. Those products vary in general, but tend to include diapers, or bottles for the baby.
Kelser only issued Lowe a warning for speeding.
–
>> Follow Alberto Luperon on Twitter (@Alberto Luperon)
Have a tip we should know? [email protected]