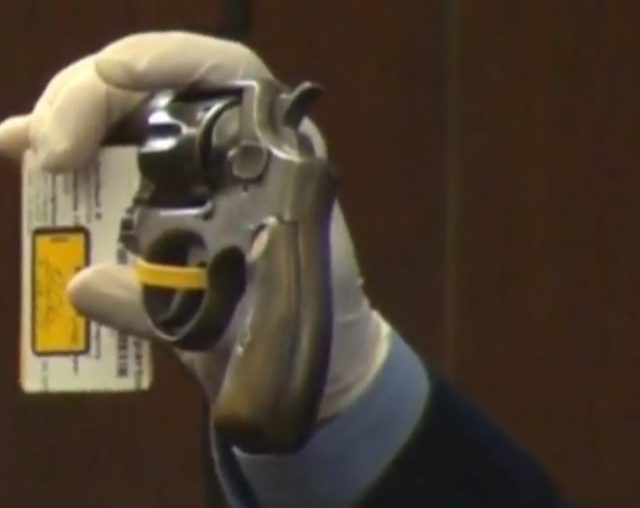 The trial of former New England Patriots star tight end Aaron Hernandez is suspended on Tuesday due to the massive East Coast snowstorm, but jurors on Monday finally got to see the alleged murder weapon that prosecutors say was used in the murder of Daniel de Abreu and Safiro Furtado, and the shooting of Raychides Sanches outside a Boston nightclub in 2012.  Prosecutors have argued Hernandez shot the men over a spilled drink.
Things got off to a bit of a slow start on Monday as Judge Jeffrey Locke reviewed testimony from last week in which the defense argued Sanches identified Hernandez as the shooter, in direct of violation of a pretrial court order prohibiting such testimony.  Judge Locke formally denied the defense's motion for a mistrial, finding that Sanches did not in fact identify Hernandez as the shooter.  Last week, the judge also gave jurors a curative instruction, directly telling them that Sanches had not identified Hernandez as the shooter.
However, once the prosecution's testimony resumed on Monday jurors were shown what prosectors argue was the murder weapon used in the shooting.  Massachusetts State Police Trooper Paul Aten testified that the gun was found in the back of a vehicle by troopers who responded to the scene of a car crash, nearly one-year after the shooting took place.
"There was a revolver, as well as three rounds of ammunition,"Aten testified about what was found in the trunk of the vehicle.
The revolver was further described as a .38 caliber Smith and Wesson.
Prosecutors then worked to link the gun to Hernandez, arguing it was found in a woman's vehicle who was connected to Hernandez.
Jailene Diaz-Ramos was 19 when she was arrested after police found weapon in car she crashed a year after murders. #AaronHernandez #wbz pic.twitter.com/4P5sXJLdYo

— Christina Hager (@HagerWBZ) March 13, 2017
On cross-examination, however, prosecution witnesses were forced to admit there was no DNA or fingerprints from Hernandez found on the weapon.   Defense attorney Linda Kenney Baden  also attempted to show jurors that the ballistics tests conducted on the firearm that linked it to the murder weapon were insufficient to prove that it was even the same gun used in the murder, arguing that the tests showed the ammunition used in the murder could've been fired by a 9mm, .38 caliber or a .357.
Hernandez pleaded not guilty in the case.  The prosecution has still not called its star witness, the alleged driver of the getaway vehicle on the night of the murder, Alexander Bradley.
Court is expected to resume on Wednesday.
[image via screengrab]
Have a tip we should know? [email protected]m