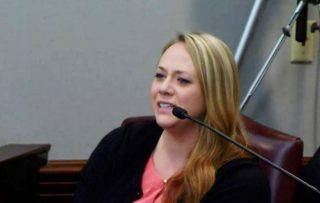 On Monday, the defense in Justin Ross Harris' murder trial had their first full day of presenting testimony. Harris is charged with murder for leaving his 22-month-old son Cooper in a hot car to die. Harris claims it was a horrible accident, while the prosecution argues it was intentional. Taking the stand Monday morning was Leanna Taylor, Cooper's mother and Harris' ex-wife.
Taylor said that she and Harris were married for eight years before Cooper's death, and they divorced about a year and a half later. She described how Harris was usually the one to take their son to day care in the mornings, because Harris wanted that time with his son. Harris could be seen crying in the courtroom while his ex-wife spoke before the court. "He was a very involved dad," Taylor said, describing how Harris was as a father.
Defense attorney Maddox Kilgore also looked to address how Harris responds to difficult situations. He asked Taylor if she was aware of any defense mechanisms Harris had in stressful times. She said that "he overcompensated with confidence … to kind of suppress the insecurities." This was likely brought up in response to witnesses who had previously testified about Harris' seemingly odd behavior when dealing with police on the day Cooper died.
Taylor also addressed issues in her marriage to Harris. She admitted that while she and Harris didn't fight often, they did have problems, specifically related to intimacy and sexual issues which arose several years before Cooper's death. She said she was not aware at the time that Harris was having sexual encounters with other women, including a prostitute, and that she would have left him right away if she had known. She did say that at one point, she asked Harris if he wanted a divorce and that if he did, he could have it. Taylor said that Harris responded, "that's the last thing I want."
Kilgore then asked questions regarding the day of Cooper's death. When Taylor went to Cooper's day care that afternoon to pick up her son and she learned he never made it, her immediate conclusion was that Harris had left him in the car. Kilgore asked her about that, as it had raised some suspicion at the time. Taylor told the court, "it was the only thing that made sense." After returning from the court's morning break, Taylor continued, saying that having her child die from being left in a car was a fear of hers, but said "I didn't have a reason" to have that fear. She said it was just an unexplained worry that she had, and that she and Harris had discussed it in the past.
Finally, Taylor discussed how easily Cooper would fall asleep. One point that the prosecution had brought up was how talkative the child was, at least according to workers at his day care facility. That was supposed to lead the jury to believe that he would have been talking or making noise while in the car with Harris, making it impossible for the father to forget that his son was in the car. Taylor, however, said that Cooper would often fall asleep quickly, and that she was once told that he fell asleep at day care with a grilled cheese sandwich in his mouth. That would indicate that it's at least possible that Cooper was quiet and not fully alert when Harris went to work with him in the backseat.
Update 10/31/16 3:29pm At the end of the defense's direct examination of Taylor, they played home videos of Harris and Cooper together, demonstrating the relationship between the father and son. The prosecution then began their cross-examination.
Leanna Taylor's testimony is expected to continue throughout the day.
LawNewz.com will update this story as the day progresses.
Have a tip we should know? [email protected]