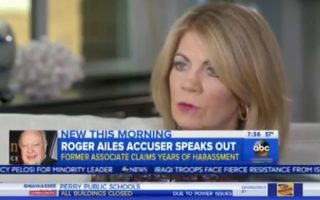 In August, former Fox News booker Laurie Luhn gave a revealing interview to New York Magazine, describing how former network head Roger Ailes allegedly sexually harassed her for 20 years while she worked for him. Luhn said then that Ailes often used her for sex throughout her career, since she was working for President George H.W. Bush's campaign. In a new interview with ABC News, Luhn gave additional details of her experiences with Ailes. Friday morning, 'Good Morning America' gave a preview.
"He would have me get down on my knees," Luhn said, "and tell me , 'You're going to do whatever I tell you to do at any time.'" Obedience seemed to be a theme in their relationship, as Luhn quoted Ailes as telling her, "Just don't ever question anything I ever ask you to do, Laurie."
Fox paid her more than $3 million when she left the company, as part of a settlement that included a non-disclosure agreement, but when other women started speaking out against Ailes earlier this year, Luhn decided to come forward. "I finally felt safe when I saw that other women were speaking up," she said.
Ailes told ABC in a statement:
Ms. Luhn is someone I once regarded as a friend and a person who I helped for many years. The stories she is telling now are fabrications built on half truths and outright lies, and I can only assume are opportunistically intended to thrust her back into the limelight at my expense.
The full interview will air Friday night on '20/20.'
[Image via ABC News screengrab]
Have a tip we should know? [email protected]