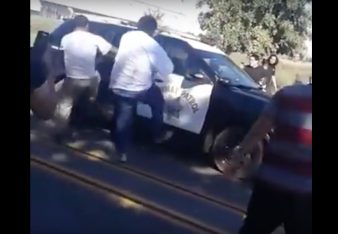 Authorities announced the arrest of three individuals they say were involved in a mob attack on a California Highway Patrol officer last month.
ABC30.com reports Federico Gonzalez, Gabriel DeAnda, and Milton Rodriguez are accused of inciting a riot and vandalism, causing more the $12,000 in damage to a CHP patrol vehicle.
Shortly after the incident, video of the attack was posted online and it quickly spread across social media.
WARNING:  Video contains strong language
According to the report, a CHP officer was responding to calls of illegal street racing and reckless driving when he was surrounded by a mob. Video of the incident appears to show individuals attacking the vehicle as it approached the scene. The officer was able to drive away and authorities say he did not suffer any serious injuries.
"The officer is doing fine," CHP Capt. Craig Kunzler told the news station. "Obviously, this was a traumatic event for him but he is doing fine, and he is back to work, and he is okay."
Authorities say they are still looking for a fourth individual in connection with the attack, identified as 19-year old Guadalupe Gonzales. Additionally, authorities say they are still trying to identify another five individuals that they say were seen on video participating in the attack.
"There were several other people that were kicking the sides of the CHP vehicle," Dyer said. "People there were other people that were chanting, yelling, 'F the police, we run the streets.'"
Have a tip we should know? [email protected]