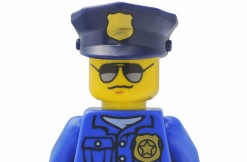 Police in Lumberton, Mississippi are looking for a man who impersonated a cop in December. His "name": Officer Badass.
On Christmas Eve, a juvenile apparently cut off a driver and his wife on I-59, according to Police Chief Elsie Cowart. This would make anyone mad, but the driver went one better, and allegedly took a shot at the kid.
You didn't misinterpret that last sentence. He reportedly shot at the kid with a gun. Fortunately, he missed.
The juvenile got away, and soon after followed the driver to a Shell Station. Juvenile and driver faced off, with the older man cursing a storm, and…excuse me, but I'm really distracted by how the kid apparently sought out an armed man who already shot at him once.
The driver "then assaulted the juvenile, telling him he was a police officer and that he almost killed his pregnant wife," said Cowart.
"You better get out of town before I end you," said the "cop," according to a witness statement. He reportedly identified himself as "Officer Badass." Badass allegedly also pulled out his gun during this polite exchange of words.
Impersonating an officer is a misdemeanor in Mississippi, punishable with up to a six-month stay in jail, and a $500 fine, max. That alleged gunplay might net Badass a heavier sentence, though.
Lumberton Police are asking for tips from the community, so if you know anything about this incident or the awesomely named suspect, be a mensch and call the department at 601-796-7001.
[h/t WMC Action News]
–
>> Follow Alberto Luperon on Twitter (@Alberto Luperon)
Have a tip we should know? [email protected]