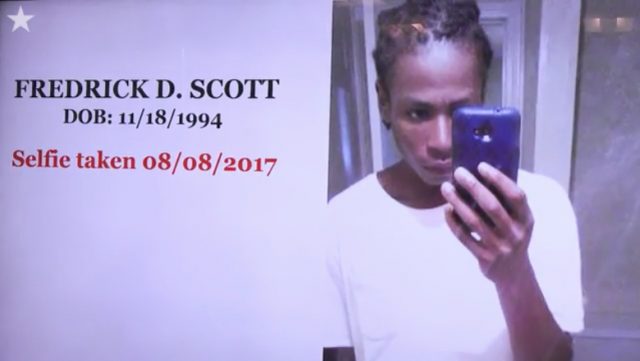 A recently-arrested man suspected of killing five middle-aged white men over the course of less than a year was once quoted in court records as having said he wanted to "kill all white people".
Those court documents also show the suspect, 22-year-old Fredrick Demond Scott, was cited for harassment in 2014 after he said of his then-high school, "I want to shoot the school up, Columbine-style."
Scott, who is black, has been charged with the murder of two men and is suspected of killing three more.
Those five deaths shook Kansas City–at first appearing random–but soon a pattern emerged: each man was white, between the ages of 54 and 67, and four out of the five killings occurred at night, along walking trails near Scott's home.
According to Scott's mother, her son was an untreated paranoid schizophrenic, but never evidenced any bigotry towards white people. In an interview with the Kansas City Star, she said, "As far as I know Fredrick never had a problem with white people. He would do odd jobs for people and some of those people were white men."
Four of the men were shot in the head. One was shot in the back. Some were killed while walking their dogs.
The final killing was a deviation from the pattern–it happened in broad broad daylight on a city street, execution-style.
The multiple slayings soon came to be known as the Indian Creek Trail Murders and kept many residents off the trails.
Scott is alleged to have committed the last killing after following 57-year-old Steven Gibbons, an apparent stranger, off a Kansas City Area Transportation Authority bus, sneaking up behind Gibbons, and shooting him in the head before getting back on another bus. Gibbons' sister, Donna, thought it was a firecracker.
Surveillance video allegedly shows Scott following Gibbons from the bus immediately before he was shot. Scott was also linked to the scene of the crime using DNA evidence.
That same DNA evidence then connected Scott to a t-shirt found at the crime scene of 54-year-old John Palmer's murder. While being questioned over the Gibbons murder, Scott apparently confessed to killing Palmer as well.
The other three men killed were 67-year-old David Lenox, 61-year-old Mike Darby, and 57-year-old Timothy S. Rice.
If ultimately found responsible for all five killings, Scott would qualify as a serial killer under the definition used by the FBI.
According to the Kansas City Police Department, Scott muttered under his breath while being questioned by detectives, "They didn't see it coming."
[image via screengrab]
Follow Colin Kalmbacher on Twitter: @colinkalmbacher
Have a tip we should know? [email protected]