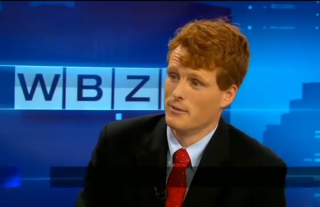 While patients in Massachusetts await affordable doses of the blockbuster hepatitis C drug Sovaldi, Rep. Joseph Kennedy III has financially benefited from the success of the drug's manufacturer, Gilead Sciences, according to public financial disclosures and campaign finance records.
And he's not the only lawmaker profiting from investments in a company that has drawn unwelcome attention for the sky-high price of a lifesaving medication it produces. Kennedy held the largest stake, but 23 other members of the House and Senate held stock in the company in 2014, the most recent year for which disclosure statements are available.
Kennedy's total holdings appreciated between $130,004 and $434,999 since he purchased the stock in 2012, records show. He reaped capital gains in 2014 by selling some of his stock for between $15,001 and $50,000, according to a transaction report he filed.
At the end of 2014, Kennedy's Gilead stake totaled between $180,004 and $450,000. (Lawmakers are not required to report the values of their assets and debts in precise amounts, but only in ranges.)
Hepatitis C, which gradually destroys the liver, is linked to opioid abuse because it frequently is transmitted via needle-sharing. According to a 2012 CDC survey, between 40 and 50 percent of respondents with the disease said opioid use contributed to contracting it. Hepatitis C is also on the rise in Massachusetts — after the state reported just 10 cases to the CDC in 2009, the figure skyrocketed to 174 in 2013.
Similarly, the number of opioid-related deaths in Massachusetts has risen. In Kennedy's 4th District, there was a 29 percent spike between 2012 and 2014, according to data from the Department of Public Health. Towns in that district such as Fall River, Taunton and Easton have particularly high rates compared to the rest of the state, as the Boston Globe reported last October. In 2014, Fall River had the fourth most opioid-related deaths of any city in the state, according to the DPH.
"Congressman Kennedy's personal investment decisions are handled by an independent financial advisor," a spokeswoman for Kennedy said in an email. "He exercises no control over his investments and they have no impact or influence on his congressional responsibilities."
She added that Kennedy believes in keeping life-saving drugs affordable and will "push for lower prices as the debate continues." In fact, Kennedy has been outspoken about the opioid crisis since joining Congress in 2012. In 2015, he was an original cosponsor of a bill aimed at tracking prescription drugs to curb abuse.
"Heartbreaking stories of loved ones lost to substance abuse and addiction have become far too common for families in every corner of our country," Kennedy said in a press release last summer.
Yet his profits from Gilead pose an awkward juxtaposition with the efforts of state Attorney General Maura Healey. On Jan. 22, Healey wrote to Gilead asking that the pharmaceutical company reconsider its pricing — $1,000 per Sovaldi pill, $84,000 for a complete treatment — and threatened to sue the company if it didn't do so. Gilead has argued that its drug ultimately saves the health care system money.
Healey quoted from the December 2015 report of a U.S. Senate Finance Committee investigation into Gilead, which found the company had a "revenue-driven" pricing strategy. The cost of the drug was busting Medicaid budgets, the report said: State Medicaid programs spent $1.36 billion on Sovaldi in 2014, before rebates. to reach just 16,281 patients — far fewer than the number of Medicaid recipients who have hepatitis C. The medicine was one of the top five drugs in terms of expenditures for 33 state programs, according to the report.
Medicare, too, is spending enormous amounts on the medication. According to the 2014 Medicare Drug Spending Dashboard, the program spent $3.1 billion on Sovaldi through Part D, the prescription drug part of Medicare — more than it paid for any other drug. That sum paid for treatment for just 33,033 people, which comes out to $94,000 per patient.
Gilead isn't the only pharmaceutical company to which Kennedy has financial ties. The lawmakers also has investments in Merck & Co. — which happens to be on the opposite side of the table from Gilead in patent litigation over Sovaldi
OpenSecrets.org calculated Kennedy's estimated net worth to be $43.2 million in 2014, making him the 18th wealthiest member of the House.
This story was first produced for opensecrets.org, a non-partisan, nonprofit which tracks money and politics. It was part of Professor Maggie Mulvihill's Journalism Research course at Boston University.
[screengrab via WBZ]
Have a tip we should know? [email protected]