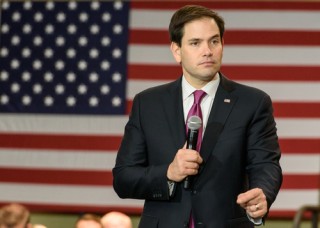 Marco Rubio may have promised "like 10,000 times" that he would be a private citizen in January 2017, but he apparently didn't say it enough to make it stick — the Florida senator announced his intent to run for re-election Wednesday morning.
Rubio suspended his presidential campaign in March, though his candidate committee lives on with $24,000 in cash and nearly $1.9 million in debt as of the end of May, according to its latest Federal Election Commission filing. Those numbers won't have much bearing on his Senate campaign, though, which will have a wholly separate committee.
But pro-Rubio super PACs that still have funds left will be able to divert it to his Senate race, if they so choose. Since super PACs cannot coordinate any of their activity with candidates, they can use their funds to support multiple candidates in multiple races, regardless of where donors may have thought their money was going when they chose to contribute. The largest pro-Rubio super PAC, Conservative Solutions PAC, still has more than $1.7 million available of the $60 million it raised during Rubio's White House run.
Though the money raised for Rubio's presidential campaign will have little direct impact on his Senate race, it may provide some clues as to where he's likely to draw cash in the months to come. Over the course of his presidential run, Rubio reported raising more than $113 million, with $52 million of that going straight to his candidate committee and the rest going to outside spending groups, mostly Conservative Solutions PAC. About 27 percent of the money came in the form of small donations — $200 or less. A quarter of his cash, $24.5 million, came from Florida, with his home metro area of Miami alone giving him $14.4 million. It wasn't enough to be his most generous city, though — that title went to New York, which gave $14.6 million to his presidential campaign.
The securities and investment industry provided by far the largest segment of Rubio's contributions, with nearly $18.5 million pouring in from bankers and others in the field. He was also popular with retired individuals and the auto industry, receiving $8.2 million and $7.4 million from them respectively. The company responsible for the single largest chunk of his cash was Braman Motorcars, a luxury car dealership in West Palm Beach; the dealership's owner, billionaire Norman Braman, is a longtime patron of Rubio's who was vocal not only in his support of Rubio but also in his distaste for former the Florida governor and Republican presidential also-ran Jeb Bush.
Unknown is how much cash is sitting in a 501(c)(4) "dark money" group that spent $8 million on pro-Rubio ads in 2015 alone. The organization, Conservative Solutions Project, is not required to disclose its donors.
Rubio's run through the primary looks to be unopposed: Rep. Ron DeSantis (R-Fla.) announced this morning that he would drop out of the race and instead run for re-election for his House seat. DeSantis, who announced his intentions to run for Rubio's Senate seat last year, had $3 million in his warchest at the end of March which he can now redirect to his House re-election race.
Emma Baccellieri work for opensecrets.org, a non-partisan nonprofit organization which tracks money in U.S. politics. 
Have a tip we should know? [email protected]