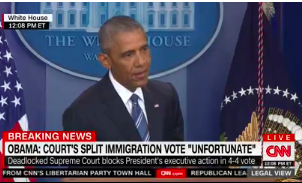 Immediately following the U.S. Supreme Court's deadlock upholding a lower court's decision to block Obama's immigration plan, many conservative pundits rejoiced that undocumented immigrants would now be deported. The Obama administration's plan, called Deferred Action for Parents of Americans and Lawful Permanent Residents or DAPA, would have allowed as many as five million unauthorized immigrants who are the parents of citizens or lawful permanent residents to apply for work permits.  But Obama assured many of those concerned that the decision doesn't mean these folks will be deported anytime in the immediate future.
President Obama said the following during a White House press conference Tuesday morning:
"Let me just be very clear, what was unaffected by today's rulings or lack of a ruling, is the enforcement priorities we put in place and our enforcement priorities have been laid out by Secretary Jeh Johnson and the Department of Homeland Security are pretty clear. We prioritize crooks, we prioritize gang bangers. We prioritize folks who just come in. What we don't do is to prioritize people who have been here a long time who are otherwise law abiding. The work we have done with the DREAM Act kids, those priorities will stay in place."
Obama said that while he was disappointed by the decision, it does not necessarily change the status quo. "Sooner or later immigration reform will get done," President Obama said. He said in order to solve this problem effectively, Congress needs to pass a law. Obama said he was forced to issue an executive order, after Congress failed to act.
The decision was 4 to 4 and is therefore not binding. That means that the Supreme Court can take up the issue again.
Have a tip we should know? [email protected]
Rachel Stockman - President / On Air Host