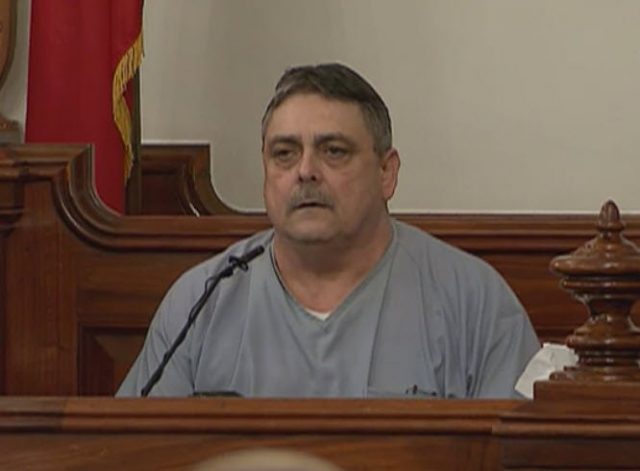 During the second day of the defense's case, they called former TBI case agent Terry Dicus to the stand, who painted an alternative theory to who raped, and killed Holly Bobo. Dicus said that he quickly ruled out the defendants, and his friends, saying definitively that Zachary Adams, "could have not been involved in the kidnapping" based on phone records that he examined.
Adams is one of six people arrested in connection with the disappearance and death of 20-year-old Holly Bobo and is the first to stand trial. John Dylan Adams, Adams' brother, claimed he saw Bobo with his brother Zachary and friend Autry after she was reported missing.  He also reportedly claimed to know that the men "had raped Bobo and videotaped it."
However, former TBI agent Terry Dicus, who was taken off the case in 2013, has a different theory of what happen. The defense brought him as their first witness on Day 8 of the Holly Bobo murder trial in Hardin County, Tennessee.
—>>> WATCH HOLLY BOBO MURDER TRIAL LIVE STREAM <<<—– 
Dicus believes that Terry Britt, a convicted sex offender, may have committed the crime.  Britt, who was nicknamed "chester the molester," had a predilection for blonde haired, blue eyed young women, Dicus testified.
Prior to focusing on Britt, the defense attorney had Dicus go through a list of at least 8 different "persons of interest" that TBI investigated before he pinned his interest on Britt.  Britt who has a lengthy criminal history including rape, and sexual assault. was indicted for a kidnapping and raping another woman that occurred about 10 months before Bobo disappeared. Britt is currently serving time for attempted rape, but lived just about 10 miles away at the time the crime occured.
According to Dicus, Britt's alibi was a lie, and did not add up. He called it "garbage." Dicus testified that Britt told him that he was with his wife the morning of the disappearance and claims he bought a bathtub.
"It's obvious that his alibi is not true.. it's fabricated," Dicus said under questioning by the defense, adding that the store where he allegedly bought the bathtub could not provide a matching receipt. In addition, Britt reportedly changed his appearance, and Bobo's purse was found right near a trailer that Britt frequented. Dicus also testified that there was no evidence that Holly Bobo's brother, Clint, was "meth buddies" with defendant Zachary Adams. That's significant because the prosecution's key witness, Jason Autry, testified that Zach Adams had gone to the Bobo household to teach Clint how to make meth.
During cross examination, the prosecution tried to emphasize that Dicus failed to do a thorough job investigating Adams and his friends. They also contend he didn't check out the other defendants' alibis. It's not clear why Dicus was taken off the case.
In an unusual move, Britt was called to the stand as one of the prosecution's last witnesses on Monday. When asked if he had anything to do with the abduction, rape and murder of Holly Bobo, he replied "No, I did not." Britt has not been charged in connection with the case.
On Monday, the prosecution rested their case. After the defense failed in a motion for acquittal, they began calling witnesses, starting Rita Austin, Shayne's mother. Stay with the LawNewz Network for analysis on the case. 
Ronn Blitzer contributed to this report.
[screengrab from trial, picture of Terry Britt]
Have a tip we should know? [email protected]
Rachel Stockman - President / On Air Host