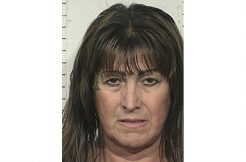 Convicted killer Shiloh Heavenly Quine is the first ever U.S. inmate to get state-funded sex-reassignment surgery. Her attorneys confirmed it to The Associated Press on Friday. Quine, 57, is serving a life sentence for the 1980 first-degree murder, kidnapping, and robbery of Shahid Ali Baig in downtown Los Angeles.
California is legally required to foot the bill, corrections spokeswoman Terry Thornton confirmed to the AP.
"The Eighth Amendment of the US Constitution requires that prisons provide inmates with medically necessary treatment for medical and mental health conditions, including inmates diagnosed with gender dysphoria," Thornton wrote.
Baig's daughter, Farida, is in no way pleased, and tried to stop the surgery in court.
"My dad begged for his life," she told the outlet. "It just made me dizzy and sick. I'm helping pay for his surgery—I live in California. It's kind of like a slap in the face."
California prison officials approved the surgery back in August 2015. Quine (still named Rodney James Quine in official prison records), reportedly argued in court documents that living in her assigned gender caused her significant depression. This led to no less than five suicide attempt, and she said she tried to cut off her genitals when she was 19. She also said it complicated her life in the ward, causing "confusion and mixed emotions from the males that go from romantic thoughts to disgust and explosive turmoil reactions." Her attorneys told the outlet she will be transferred to a women's prison.
[California Department of Corrections and Rehabilitation]
Have a tip we should know? [email protected]