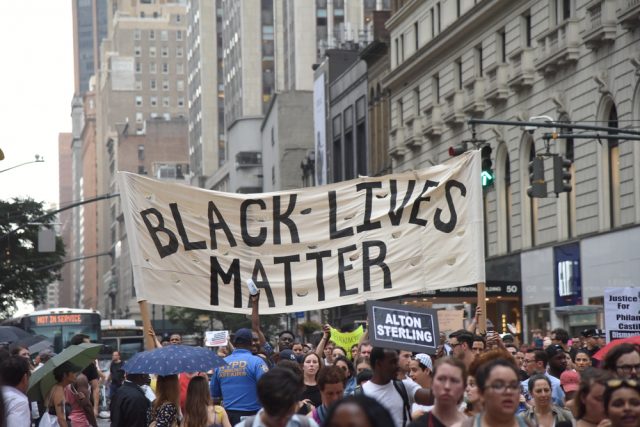 A Black Lives Matter ("BLM") activist wants police uniforms barred from courtrooms.
After being told to remove a t-shirt bearing the group's name, a local BLM leader in New York City is launching a campaign for courtroom attire equality. Hank Newsome summed up his effort in an interview with the New York Daily News. He said:
How fair is it that police can visibly support another cop who was indicted for murder and manslaughter, but family and activists can't wear a particular shirt?
Earlier this week, Newsome was sitting in on the murder trial of Police Officer Wayne Isaacs. Isaacs is accused of killing Delrawn Small during an apparent road rage incident in Brooklyn during the summer of 2016.
Newsome noticed a sea of blue uniforms, police union t-shirts and other varieties of law enforcement regalia and outerwear filling the courtroom. Newsome himself wore a black BLM t-shirt with the organization's name in white set against a red and green square background.
As the trial started, however, Newsome was asked to turn his shirt inside out. The message was delivered by Assistant Attorney General Joshua Gradinger. The message was reportedly sent by Justice Alexander Jeong.
In response, Newsome penned a letter of complaint to the administrative judge of the Brooklyn Supreme Court on Tuesday of this week. In that letter, he cited a murder conviction from 2014 that was thrown out due to the fact that during the original trial, the victim's family wore memorializing t-shirts which were determined to have unduly influenced the jury. He wrote:
It is in my opinion, if a t-shirt with the name of a movement for social justice … would intimidate or influence the jury, then there is no doubt that the wearing of clothing with a police shield would have the same effect. I was deeply disturbed by the influence that these officers would have on the jury.
Lucian Chalfen, New York State's Unified Court System's Director of Public Information, said, "Police uniforms are sanctioned attire by their employer. Provocative outerwear is not allowed in a courtroom as the potential to unduly influence the proceedings exists."
LawNewz reached out to Chalfen to clarify the court system's position on various police attire allowed in court rooms, but no response was forthcoming at the time of publication.
[image via screengrab]
Follow Colin Kalmbacher on Twitter: @colinkalmbacher
Have a tip we should know? [email protected]