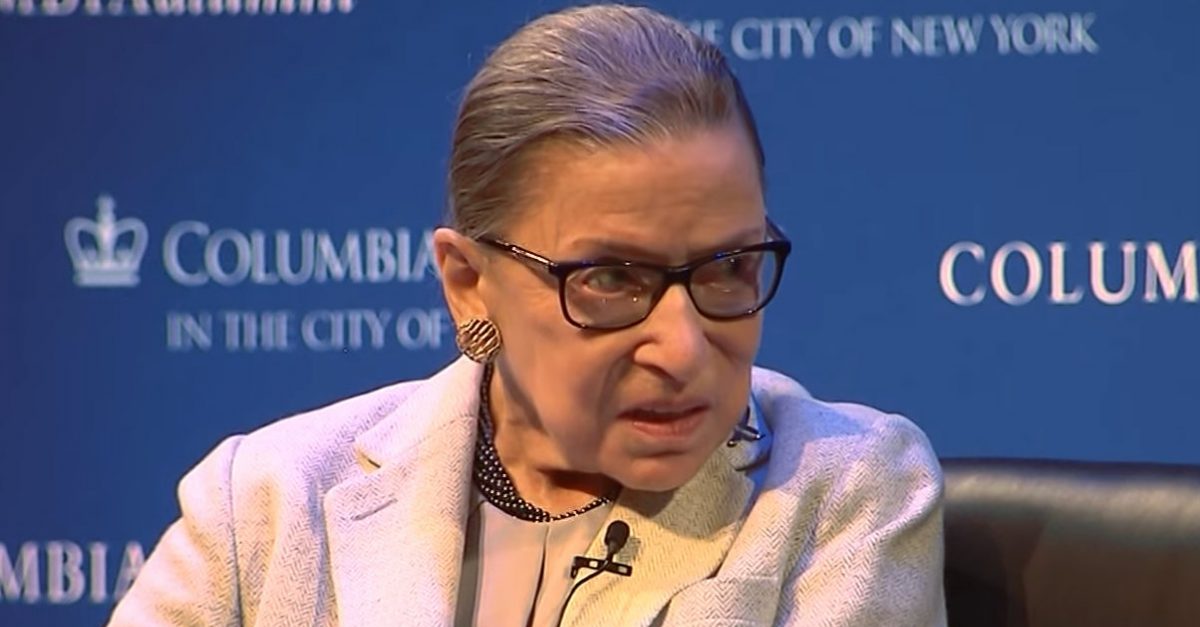 Supreme Court Justice Ruth Bader Ginsburg will miss oral arguments on Monday for the first time in 25 years. This marks the first time in her entire career that the storied 85-year-old jurist will not be on the bench for oral arguments.
Ginsburg is reportedly sitting out today's session in order to further recuperate from cancer surgery she went through last month.
On December 21, the Supreme Court's Public Information Office announced that Ginsburg "underwent a pulmonary lobectomy" in New York City in order to have two malignant cancer growths removed from one of her lungs.
"Two nodules in the lower lobe of her left lung were discovered incidentally during tests performed at George Washington University Hospital to diagnose and treat rib fractures sustained in  a fall on November 7," the statement from court spokesperson Kathleen Arberg said. "According to the thoracic surgeon Valerie W. Rusch, MD, FACS, both nodules removed during surgery were found to be malignant on initial pathology evaluation."
As Law&Crime reported at the time, doctors found "no evidence" of widespread disease and did not plan for any additional treatment.
Ginsburg was treated for four days at Memorial Sloan Kettering Cancer Center in New York City before being discharged from the hospital with a clean bill of health on Christmas Day. She spent the rest of the court's winter recess recovering at home.
The liberal justice previously had cancer-related surgeries in 1999 and 2009 that did not keep her off the bench.
On Monday, the Supreme Court is set to hear arguments in two cases: Merck Sharp & Dohme Corp. v. Albrecht, a federal pre-emption case; and Obduskey v. McCarthy & Holthus LLP, which deals with the Fair Debt Collection Practices Act and non-judicial foreclosures.
It is not immediately clear when Ginsburg will return to the bench.
[image via screengrab/CNN]
Have a tip we should know? [email protected]