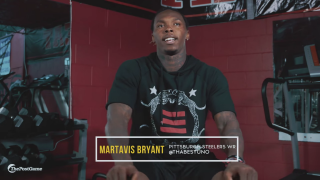 Martavis Bryant is a young dynamic wide receiver for the Pittsburgh Steelers. Over his two years in the NFL, Bryant has put up impressive numbers. He's reeled in 1,314 yards receiving and caught 14 touchdowns. He's been equally impressive during this past postseason, making 14 catches for 183 yards in just two games. There is no question the future is bright for him. However, the young star is a facing a hurdle: a one-year suspension for violating the NFL's substance abuse policy. And based on what information we know, Bryant's chances of appealing and winning seem very unlikely.
The details of when Byrant violated the test are unknown. It is also not confirmed which substance Bryant used that would cause him to be in violation of this policy. However, this is not the first time Bryant has been suspended for violating the NFL's substance abuse policy. Prior to the start of the 2015 NFL season, Bryant was caught using marijuana, which is a substance banned under the league policy. He served a 4-game suspension as a result of this. Bryant even flew to Houston, Texas to work with a substance-abuse counselor to cope with this issue. Bryant served the 4-game suspension after it was found that he failed multiple drug tests leading up to the 4-game suspension. With this latest suspension on Bryant's record, it is confirmed via Bryant's agent that he will be appealing the suspension. His other agent Brian Fettner says that this latest suspension comes as a shock, and that he is planning to check into rehab.
With this latest headline, I thought it would be prudent to provide a quick 101 about the NFL's substance abuse policy and the underlying governing language. The NFL's Policy and Program on Substances of Abuse contains a list of substances containing a threshold amount of use. The substances include cocaine, marijuana, MDMA, and amphetamines among others. When Bryant received his first suspension, it was found that he used marijuana; however, the length of his suspension this time leads me to believe that he did not use marijuana, and here's why. According to Section 1.5.3(b) of the substance abuse policy, a player who fails to cooperate with treatment and testing by the policy or who tests positive for a substance during what's called stage three of the intervention program, will be suspended a full year in the NFL. According to the succeeding section 1.5.3(c), a player who tests positive for marijuana during stage three of the intervention program is only subject to a 10-game suspension. Had Bryant used marijuana, it would be likely that he would be slapped with a 10-game suspension, not a year-long suspension. Section 1.5.3(e) states that once a player serves his one-year suspension, it is as the NFL Commissioner's discretion to decide when to reinstate the player. The section even notes that the progress of the player's treatment program for his substance abuse issue is a contributing factor in helping the Commissioner make a decision.
As is the case with any policy collectively bargained for in major US sports leagues, there is a section in the NFL's substance abuse policy that afford players the right to appeal any suspension they may face. Section 4.1 of the league's substance abuse policy states that third-party arbitrators not affiliated with the NFL or the league's players association hear all appeals. Section 4.2 states that a player can appeal within 5 days notice of a suspension, at which point a hearing is scheduled. A player can have an attorney present, and the arbitrator's decision is full, final, and complete and binding on all parties. Section 4.2 additionally states that an arbitrator cannot reduce a sanction less than the minimums established in the policy or vacate a punishment unless the arbitrator finds that the charged violation did not qualify in a given case.
It's being reported that Bryant will check into a rehabilitation clinic following news of this suspension. However, if Bryant were to appeal, his chances look rather bleak. Back in 2014, Cleveland Browns receiver Josh Gordon was suspended a full season for violating the league's substance abuse policy. In an effort to overturn the league's ruling, Gordon appealed the suspension but was denied. Gordon could be reinstated in the NFL soon, but that is to be determined.
Martavis Bryant's story is strikingly similar to Josh Gordon's and we can only hope that Bryant will make a change for the better. For now, we wait for more details to come about this suspension, including what substance Gordon abused that caused him to be in violation of the league's policy and if, in fact, he'll appeal the suspension and win.
Tony Iliakostas is a sports law contributor for LawNewz. He is the founder and host of his own sports law video blog called "Law and Batting Order." You can follow Law and Batting Order on Facebook and Twitter, and you can follow Tony on Twitter.
[screengrab via The Post Game]
Have a tip we should know? [email protected]