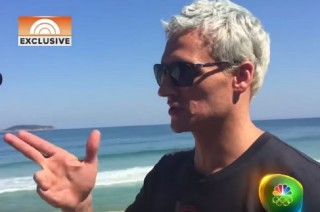 U.S. swimmer Ryan Lochte may be an Olympian champion during these 2016 Rio Olympics, but in the eyes of the Brazilian justice system, he is a man on the run.  Ahead of this year's summer Olympics, many were worried about the state of affairs in Rio de Janeiro, Brazil.  From the city's immense amount of poverty to the Zika virus epidemic to political and police corruption, all eyes were on Rio in the hopes that these local issues would be subdued during the Olympics.  Ryan Lochte, however, painted a picture of violence and recounted how he was allegedly robbed at gunpoint when he was with three other swimmers.  Police and the Brazilian court aren't buying Lochte's story and new developments have emerged that may make some wonder if Lochte could be extradited and potentially charged under Brazilian penal law.
According to Lochte, on early Sunday morning, he was with three other swimmers (Jack Conger, Gunnar Bentz, and Jimmy Feigen) in a cab driving towards the Olympic Village.  Lochte says the taxi was pulled over by men posed as Brazilian law enforcement who then proceeded to pull out their guns.  The men told the swimmers to get on the ground and according to Lochte, he refused.  One of these men then placed his gun on Lochte's forehead and told him to get on the ground.  The men then proceeded to take Lochte's money and wallet.
However, after reviewing witness accounts, the Brazilian court found several inconsistencies in Lochte's story.  At that point, the court ordered Lochte's passport to be revoked in an effort to prevent him from fleeing Brazil.  Unfortunately, the order was made far too late, as Lochte made his return to the US a few days prior.  Meanwhile, Lochte changed his story a bit, saying that a gun was just pointed in his direction, but it wasn't placed on his head.  There are also inconsistencies about the taxi story itself.  Lochte stated that the taxi pulled over; another report suggests that the taxi pulled into a gas station so that the swimmers could use the bathroom when they were allegedly approached by these thieves. Then, Brazilian police stopped Gunnar Bentz and Jack Conger at Rio's airport right before their flight back to the US and confiscated their passports.  They were interrogated by Brazilian authorities for approximately four hours.  And the latest, according to ABC News, is that the Lochte and the four swimmers were involved in a brawl with a security guard at the gas station where the taxi stopped.  The fight even escalated to a point where a door at the gas station was torn off and used during the fight.  ABC News' Matt Gutman tweeted that Lochte and the swimmers attempted to pay the gas station for damage to the door. Brazilian authorities have also reported today that Lochte's robbery claim was entirely fabricated in an effort to cover up the brawl at the gas station.
Lochte and the other swimmers have not responded to Brazilian authorities' allegation that the robbery on Sunday morning did not occur.  Nevertheless, as these details continue to roll out, one thing is for certain: Lochte, Feigen, Conger, and Bentz could be found criminally liable under Brazil's Penal Code for assault.  Under Special Part Title 1, Chapter 2 of Brazil's Penal Code Article 129 (which I translated from Portuguese to English), assault occurs when one offends the "bodily integrity or health of others." Under this section, the penalty, if found guilty, is detention of three months to one year.  Under this same article, Section 1 outlines what amounts to assault that leads to serious bodily injury.  If a person is unable to perform usual activities for more than 30 days, the injury is hazardous, there is permanent debilitation of a member, sense, or function, or there is an acceleration of delivery, the penalty is one to five years in prison.  The crimes get worse and worse as you go down the list, and the punishments also increase incrementally.  As it pertains to this case, we would have to 1) know how severe the injuries were to the security guard, 2) understand what promulgated the fight in the first place, and 3) determine if this brawl bears any connection to the alleged robbery that Lochte talked about in the first place, if it even happened.
If this case does not amount to an assault charge, Lochte and the other swimmers could be found liable for falsely reporting a crime or misdemeanor.  Under Special Part Title 11, Chapter 3, Article 340 of Brazil's Penal Code, informing law enforcement of the occurrence of a crime or misdemeanor that never took place is subject to detention of one to six months or a fine.  There is another clause in Brazil's Penal Code under Special Part Title 11, Chapter 3, Article 342, which states that if you make a false statement or deny the truth as a witness in legal proceedings or in a police investigation, the penalty is imprisonment of one to three years and a fine.
Brazilian authorities also consider the US swimmers' actions as amounting to vandalism of private property.  Under the Brazil's Penal Code Special Part Title 2, Chapter 4, Article 163 states that and destruction that renders something (such as property) useless qualifies as damage and amounts to a penalty of one to six months or a fine.  The statute follows by stating that if a crime is committed with violence or a serious threat of violence against a person or for selfish reasons and causing considerable damage to the victim, the penalty is six months to three years and a fine in addition to the penalty corresponding to the violence.
What also makes this case so interesting is whether Lochte is subject to extradition.  He is the only swimmer who left Brazil.  So could he be extradited to Brazil?  Under the United States-Brazilian International Extradition Treaty that was enforced in 1964, it states quite clearly that the US and Brazil are bound to grant extradition of their nationals if specific crimes or offenses have occurred.  Some of these crimes include murder, willful assault, perjury, forgery, the malicious damaging of private buildings or other structures, and much more.  Under the US-Brazil extradition treaty, Brazilian authorities could argue that Lochte vandalizing the gas station and removing the door could qualify as grounds for extradition.  Even the mere confrontation with the gas station security could amount to grounds for extradition.  However, nothing in the extradition treaty points to falsifying a police report as being an offense that could lead to one's extradition.
It will be interesting to see how the United States responds.  Determining whether to extradite Lochte to Brazil is a matter of whether not doing so is obstructing justice and preventing Brazilian authorities from understanding the legitimacy of his initial claim.  It also may help them determine if a crime was committed by Lochte and the other US swimmers in the first place when this gas station brawl broke out.  If you had asked me yesterday about Lochte's possible extradition, I probably would have laughed.  However, these latest developments lead me to believe that it is all the more possible now.
It's very hard to draw a conclusion from this case, especially as more facts and developments come forth.  We don't even know how the International Olympic Committee or the US Olympic Committee will respond once the Brazilian investigation concludes.  But from a legal perspective, could Lochte and his friends be found criminally liable for falsely reporting a crime? Could this escalate to an assault charge? That is certainly a possibility but make no mistake: "LochteGate" is far from over.
Tony Iliakostas is a sports law contributor for LawNewz.  He is the founder and host of his own sports law video blog called "Law and Batting Order."  You can follow Law and Batting Order on Facebook and Twitter, and you can follow Tony on Twitter.
UPDATE – At the time this article was published, Brazilian authorities held a press conference discussing the offenses they deemed Lochte and the other 3 US swimmers were guilty of, including potential destruction of private property.
CORRECTION – An earlier version of this article included a link to the US-Brazil extradition treaty that was incorrect.  This article has been updated to include the proper version of the treaty.  LawNewz.com's Rachel Stockman explains in greater detail the extradition process.
This is an opinion piece. The views expressed in this article are those of just the author.