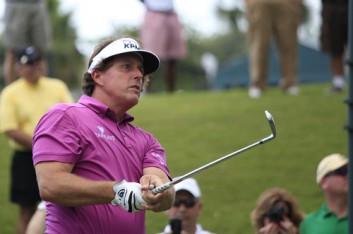 Five-time major champion golfer Phil Mickelson reached a deal with the Securities and Exchange Commission on Thursday to repay $931,000 he earned after allegedly purchasing stock based on an inside tip.
An SEC court filing reveals Mickelson received a call from his bookie, Billy Walters, and was tipped to purchase stock in Dean Foods.  The SEC says Mickelson owed Walters a gambling debt.  Mickelson then used three different brokerage accounts to purchase approximately $2.4 million worth of stock in Dean Foods. The court filing notes Mickelson was not a frequent trader and only invested about $250,000 in the stock market prior to the Dean Foods purchase.  Approximately one week after making the purchase, Dean Foods stock price increased approximately 40% and Mickelson sold all of his shares for a profit of $931,000.
Mickelson will not be charged criminally in this case.  Mickelson was only named as a "relief defendant" which ESPN says "is reserved for a person who profited without evidence of knowledge concerning the origin of the illegal tip."  In other words, the SEC does not have evidence that Mickelson knew he received illegal inside information when he made the trade.
According to Marketwatch.com, Mickelson released a statement through his lawyer saying he was "vindicated" because he was not charged with violating securities laws.  The statement also said Mickelson "has no desire to benefit from any transaction that the SEC sees as questionable" so he has agreed to return all of ill-gotten gains, plus interest, for a total of $1.03 million.  Mickelson's lawyer added:
Phil understands and deeply respects the high professional and ethical standards that the companies he represents expect of their employees, associates and of Phil himself. He subscribes to the same values and regrets any appearance that, on this occasion, he fell short. He takes full responsibility for the decisions and associations that led him to becoming part of this investigation. … He is pleased this matter is over, and he will have no further comment.
Forbes reports Mickelson made approximately $48 million in endorsement deals in 2015, including major deals with Barclays bank and the financial services firm KPMG. ESPN obtained a statement from KPMG saying while disappointed with the announcement, they planned to continue their relationship with Mickelson.
Have a tip we should know? [email protected]