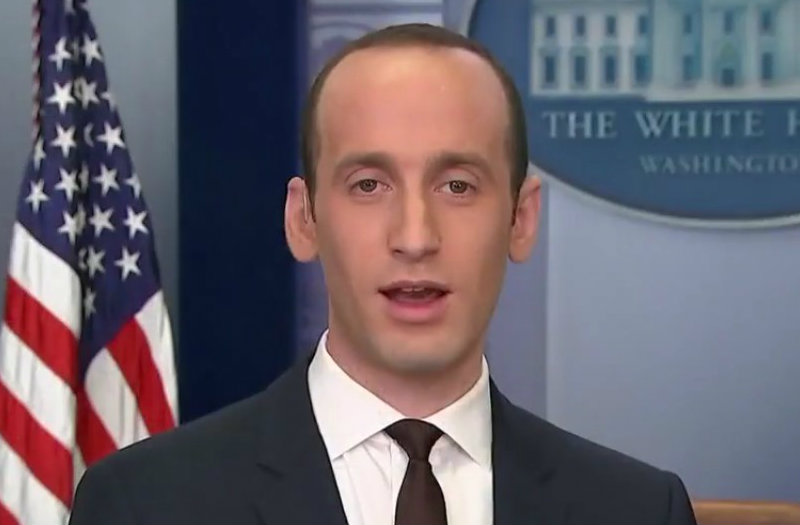 On Sunday, White House senior policy adviser Stephen Miller doubled down on President Donald Trump's claim of widespread voter fraud. But this allegations remain shaky. First, let's take a look at his comments on This Week.
"I can tell you that this issue of bussing voters into New Hampshire is widely known by anyone who's worked in New Hampshire politics," he told host George Stephanopoulos. "It's very real, it's very serious. This morning on this show is not the venue to lay out all the evidence." Then he laid out general allegations, like voters being registered in two states, or dead and undocumented people registered.
Stephanopoulos wasn't convinced, saying Miller and the president showed zero evidence. Miller, however, claimed "anyone who's worked in New Hampshire politics" is aware of the bussing fraud.
So what have New Hampshire officials said about voter fraud?
In late October, gubernatorial candidate and Republican Chris Sununu claimed in a radio interview that Democrats bussed in Massachusetts voters to vote in NH on election day. (Fyi, he won the election, and now he wants to end same-day registration.) Incidentally, two former New Hampshire GOP lawmakers and Trump supporters Susan DeLemus and Paula Johnson claimed in a CNN panel from December that millions of undocumented immigrants voted in California.
But there remains no substantiated evidence of widespread fraud in New Hampshire, or elsewhere for that matter.
"We have received what I would consider the usual types of complaints during an election. They range everywhere from illegally placed campaign signs to people electioneering in an improper way at the polling place," NH Deputy Secretary of State Dave Scanlan told NPR in a late November report. "There are some isolated instances of individual voters voting improperly. Those have been passed along to the attorney general's office — and they'll chase those down — but we haven't had any complaints about any wide-scale voter fraud taking place."
His boss made a similar statement.
"I have no basis to say it's rampant, and there are ways we can deal with it," NH Secretary of State Bill Gardner told Politifact in a November interview.
The outlet also checked in with Assistant U.S. Attorney Mark Zuckerman, the district elections officer there for the last decade, to learn how things were going from his vantage point. He said his office didn't receive voter fraud complains in the recent election.
"Local election officials, from what I can see, take their responsibility very seriously and undertake to run as transparent and trouble free elections as they can," he said. "We haven't seen those incidents occur."
Trump won the Electoral College, and therefore the race itself, despite losing the popular vote by almost 2.9 million ballots. Democratic candidate Hillary Clinton took New Hampshire by only a few thousand votes, prompting Trump to claim he only lost there because of voter fraud. He even brought it up during a reported meeting with senators on Thursday.
There's going to be action at the federal level because of all this. In response to the NH claim, FEC Commissioner Ellen Weintraub demanded Trump show evidence of voter fraud claims so it could be investigated. Also, the president announced on Feb. 5 that VP Mike Pence would lead a White House investigation into the matter.
[Screengrab of Miller via ABC]
Have a tip we should know? [email protected]