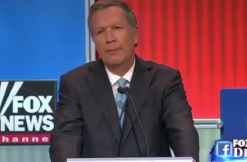 A staffer for Ohio Governor John Kasich's presidential bid was fired Saturday after reports of a November domestic violence arrest surfaced. The man, Blake Waggoner, allegedly choked and punched a woman in the back of the head.
Waggoner, 30, joined Kasich's campaign in November. That same month, on the 12th, Washington D.C. cops arrested him after hearing about a woman "screaming repeatedly 'get off me,'" according to a police report.
He pleaded not guilty to simple assault domestic violence, then joined a diversion program in December, rather than face a potential 180 days in jail, and a fine of up to $1,000. This means he'd do things like community service to get the charge dismissed. He had apparently changed his plea to guilty, but court records obtained by The Cincinnati Enquirer weren't clear. If so, then diversion would be done in lieu of a sentence.
Seems like Kasich's campaign didn't know about all this until Saturday, when The Enquirer checked in about the allegation. Cue Waggoner getting fired.
"Obviously, this kind of behavior is abhorrent and completely unacceptable," said Beth Hansen, Kasich's campaign manager, to The Enquirer. "We were unaware of the incident concerning Blake, and he is no longer an employee of the campaign."
Waggoner is kind of a veteran in politics. For example, he's also worked for former Virginia Governor Bob McDonnell and Iowa Gov. Terry Branstad. After all this, he seems to have laid waste to his social media presence, deactivating his Twitter, LinkedIn, and Facebook accounts.
[h/t The Cincinnati Enquirer]
[image of Kasich via Fox News screengrab]
–
Follow Alberto Luperon on Twitter (@Alberto Luperon)
Have a tip we should know? [email protected]