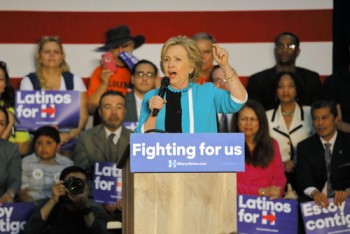 Democratic presidential candidate Hillary Clinton says she'll be a "vocal champion for D.C. statehood" if elected president.  Clinton made the announcement on Wednesday, writing an op-ed in the African-American weekly newspaper the Washington Informer.
"Washington, D.C., is home to nearly 700,000 Americans — more than the entire population of several states. Washingtonians serve in the military, serve on juries and pay taxes just like everyone else," Clinton wrote.  By refusing to grant D.C. statehood, Clinton argues "its citizens are routinely denied a voice in its own democracy."
Clinton said she plans to make D.C. statehood an issue in the upcoming general election campaign and went after the likely GOP nominee, Donald Trump, accusing him of having not given any thought to the issue.
"Just recently [Trump] said that while he hadn't fully decided on a position yet, 'statehood is a tough thing' for Washington, D.C," Clinton wrote.  "Well, I think what's been tough for the district is having virtually no say in its own affairs for decades. And by fighting to bring about the creation of a 51st state, I believe we can break down a barrier that's stood in the way of progress for far too long and give more Americans a say in America."
[image via shutterstock]
Have a tip we should know? [email protected]