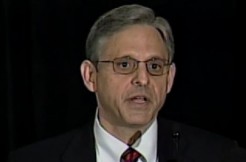 President Barack Obama is set to pick 63-year-old Merrick Brian Garland to the U.S. Supreme Court.  Garland has been a judge for the United States Court of Appeals for the District of Columbia Circuit since 1997, when he was appointed by Bill Clinton. He received his J.D. from Harvard Law School, where he has also taught antitrust law. Before becoming a judge, he was an Assistant U.S. Attorney for the District of Columbia and a prosecutor in the Criminal Division of the U.S. Department of Justice.
Some other details:
Born and bred in Illinois. He went to Niles West High School over in Skokie.
Garland, of course, did really well in school, graduating summa cum laude from Harvard College and magna cum laude from Harvard Law School.
After he became Principal Associate Deputy Attorney General for the Justice Department in 1994, he went on to supervise the Oklahoma City bombing prosecution.
This won't be Garland's first contentious judicial nomination process. When Democrat Clinton put his name forward for the D.C. Circuit seat in 1995, the Republican-control Senate stalled his confirmation until 1997.
He has been married to his wife, Lynn, since 1987.
Stay with LawNewz.com for continuous coverage on this story.
[image via C-SPAN screengrab]
–
Follow Alberto Luperon on Twitter (@Alberto Luperon)
Have a tip we should know? [email protected]