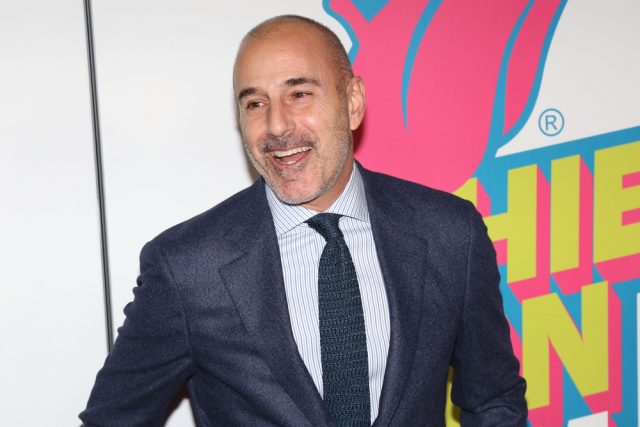 Okay so something is definitely not adding up here. This morning as news spread that Matt Lauer was fired from NBC News, Chairman Andy Lack put out a statement to the staff detailing what happened. He said the network received a detailed complaint from a colleague about inappropriate sexual behavior at work, and after a day long investigation they terminated Lauer finding it to be a "clear violation of company's standard." But, here's the part of Lack's letter to his staff that is raising some eyebrows:
While it is the first complaint about his behavior in the over twenty years he's been at NBC News, we were also presented with reason to believe this may not have been an isolated incident.
Despite insiders saying Lauer's behavior was well-known inside 30 Rock, Lack claims management/executives never got a complaint. Never. Not once in 20 years.  By the way, that's the same thing O'Reilly claims about his HR record at Fox News.  But, here's the thing, there are now multiple reports out that management was notified. From Variety's bombshell report:
Several women told Variety they complained to executives at the network about Lauer's behavior, which fell on deaf ears given the lucrative advertising surrounding "Today." NBC declined to comment.
Variety reportedly had dozens of interviews with current and former staffers at NBC news over a 2 month timespan. And they also reported this:
Lauer's conduct was not a secret among other employees at "Today," numerous sources say. At least one of the anchors would gossip about stories she had heard, spreading them among the staff. "Management sucks there," says a former reporter, who asked not to be identified, speaking about executives who previously worked at the show. "They protected the s— out of Matt Lauer."
"If someone is in a management level position and is made aware of a complaint, they are legally obligated to take action, the knowledge is imputed to the company," said Law&Crime legal analyst and employment law attorney Misty Marris.  "If they did report this type of conduct to an executive and the company failed to take action, there is absolutely a potential for civil liability for NBC news."
This liability would even apply if the executive was notified of the conduct outside a workplace setting. For example, if a producer mentioned the concerns to an executive producer while the team was out for drinks, the company could still be held liable. Bottom line: if you believe these NBC employees, Andy Lack's statement is super fishy. Now to be clear, I have no idea if Lack personally had any knowledge of these claims, but it appears someone in upper management did.
When news of the Fox News scandals with Ailes and O'Reilly broke, I repeatedly railed on that network for continuing to employ co-President Bill Shine because he was such a legal liability for the company. According to multiple lawsuits filed against Fox News, Shine was aware of the allegations and did little to nothing about them. In May, Shine "resigned" from the network. It would be unfair not to ask the same questions of NBC. Who knew about this behavior? When did they know about it, and why was nothing done? Law&Crime reached out to NBC for clarification on this apparent discrepancy between Lack's statement recent reports. We are awaiting a response.
"Just because a complaint didn't make it into the HR folder, doesn't mean the 'company' legally speaking was not aware," Marris said. "Maybe he (Lack)  jumped the gun on the statement." Whatever happened, we need some answers.
This is an opinion piece. The views expressed in this article are those of just the author.
Rachel Stockman - President / On Air Host