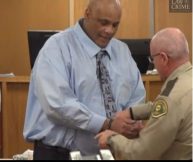 A jury in Cerro Gordo County, Iowa has found Larry Whaley guilty of second-degree murder in the death of 19-year-old Samantha Teeter. Whaley admitted that he fired a gun at the front door of his apartment, resulting in Teeter's death on December 2, 2016. His defense insisted he was acting in self-defense, fearing that someone was trying to break into his home.
During the trial, Teeter's boyfriend testified that he and Teeter had been at Whaley's apartment the night before, and that the next morning they returned. When they knocked and no one answered, Teeter tried to enter using a key, but the door barely opened, appearing to be held closed. Soon after, Teeter was shot in the head by a bullet coming through the door.
When police responded to the scene, they claimed to see Whaley nearby talking to himself saying what sounded like, "They were trying to break in." Deb Ewing testified that she was with Whaley at the time, and that she was afraid she was being stalked by a man with whom she had a prior relationship. She told the court that Whaley rented a hotel room for them to stay in, but they ended up staying in Whaley's apartment, with Ewing on the couch.
"He wanted to go to the hotel because he didn't want to kill anybody tonight … that's his words," Ewing said. She recalled Whaley waking her up before he fired at the door.
Whaley himself opted not to testify.
The trial came after Whaley spent much of the last year claiming that his rights were being violated, and that evidence in his favor was being withheld. Prosecutors previously charged him with first-degree murder. During his first court appearance, Whaley took issue with the first-degree charge, telling the judge "it wasn't intentional." Prosecutors ended up changing the top charge to second-degree murder in the weeks before the trial. Whaley also wrote letters to the judge earlier this year, saying that when he fired the gun, he thought two people were trying to break into his home, and that "I had no intention of shooting anybody, I just meant to scare them off."
Have a tip we should know? [email protected]