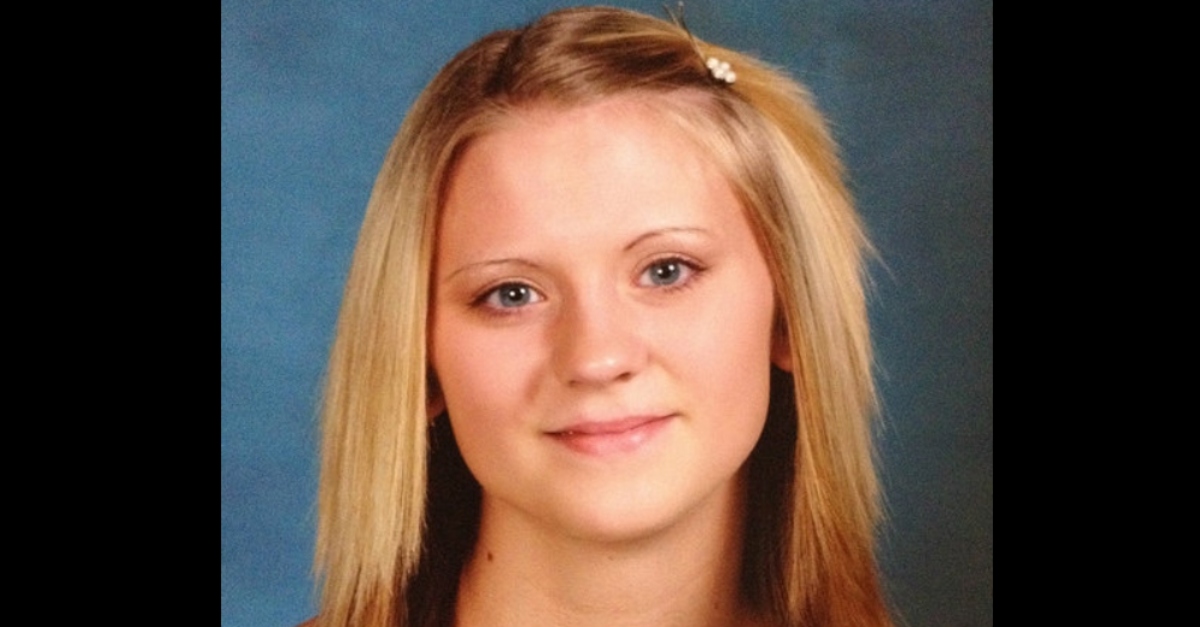 Another mistrial has been declared in the murder retrial of Quinton Verdell Tellis.
#JessicaChambers – HUNG JURY. JUDGE DECLARES MISTRIAL

— Cathy Russon (@cathyrusson) October 1, 2018
#JessicaChambers – Defense attorney Darla Palmer hugs #QuintonTellis

— Cathy Russon (@cathyrusson) October 1, 2018
The first trial, in 2017, ended in a mistrial as well. Jurors were deadlocked.
Prosecutors said he set 19-year-old Jessica Chambers and her car on fire December 6, 2014. Testimony showed that nearly her entire body, including her vocal chords, was burnt. First responders testified hearing that Chambers claimed an "Eric" or "Derek" did this to her. Months passed. Tips dried up. Then investigators took a second look at Tellis, one of the many people previously interviewed.
Authorities argue that cell phone tower evidence placed him in the same area as Jessica during the time of the crime. He first told them he last saw her the morning of December 6, but changed his answer when confronted with evidence, and said that actually, he saw her that evening at a Taco Bell.
During closing arguments, John Champion, the District Attorney for the 17th Circuit Court District, said that Tellis and Chambers were in her car, when something happened to make the defendant think he had killed her. Tellis wanted to get rid of the body, so he took the vehicle over to a rural road, the state argued.
"Quinton Tellis went down to the crime scene, and lit this child on fire," said Assistant District Attorney Jay Hale.
Defense lawyer Alton Peterson argued that investigators zeroed-in on his client months after the murder, and "worked backward." Co-counsel Darla Palmer described authorities as being overzealous.
She said that Tellis fully cooperated in the interviews because he had nothing to hide. Palmer argued that investigators weren't thorough enough in their search for the killer.
#JessicaChambers defense: The state checked Chambers Eric/Derek contacts out on Facebook. Why did the state not swab those people for DNA? State downloaded a database to check for Eric/Derek. How did they search? "No; we used it to search against names we already had."

— Aaron Keller (@AKellerLawCrime) September 30, 2018
Prosecutors dismissed testimony and reports that had Chambers blaming an "Eric" for the fire. Champion construed this as a good-faith mistake. He suggested that the name spread after one of the first responders said it.
"That's fine," he said. "These are good people. I know a lot of them."
He and Hale both highlighted testimony from Dr. William Hickerson, who said that Chambers wouldn't have been able to speak. Her burns were way too severe.
"She could've made sounds, but not sounds that we would be able to say would be speech," Hickerson testified Thursday.
This theory went further than the explanation provided by Champion in the last trial. He cited testimony that Jessica mispronounced her own name, and suggested she might have been trying to identified the defendant.
"What if she was trying to say, 'Tellis'?" he said.
Now, prosecutors flat-out argued she couldn't have been possibly been able to talk.
By Palmer's count, however, seven firefighters and two law enforcement officers claimed to hear Jessica name an "Eric." Peterson construed the prosecution's timeline of December 6 as being too convoluted, and unsupported by evidence.
For example, prosecutors say witness Sherry Flowers picked up a hitchhiker that night, and dropped off this man near the fire. Peterson pointed out that she never identified Tellis from the stand.
Then there is the matter of the keys found across the street from Flowers' home. Testing showed that Tellis' DNA couldn't be excluded from the results, but nothing more, the defense said. There's no proof the defendant dropped the keys in that yard, Peterson argued.
"Based upon what evidence?" he said. "Based upon no evidence."
Tellis must also deal with an unrelated murder case in Louisiana. Prosecutors there claim he tortured 34-year-old Ming-Chen Hsiao for the PIN number to her debit card. His wife's cousin Eric Hill told cops the defendant admitted it to him while they were exchanging "war stories," according to the police affidavit.
Tellis pleaded guilty in 2016 to unauthorized use of Hsiao's debit card.
The Ouachita Parish District Attorney's Office held off on prosecuting Tellis for the murder case because his first trial in the Chambers case ended with a hung jury. Law&Crime reached out to them last week for comment on how they'll proceed in the event of a guilty verdict, acquittal, or mistrial. A spokeswoman declined to comment.
[Image via Facebook support group]
Have a tip we should know? [email protected]