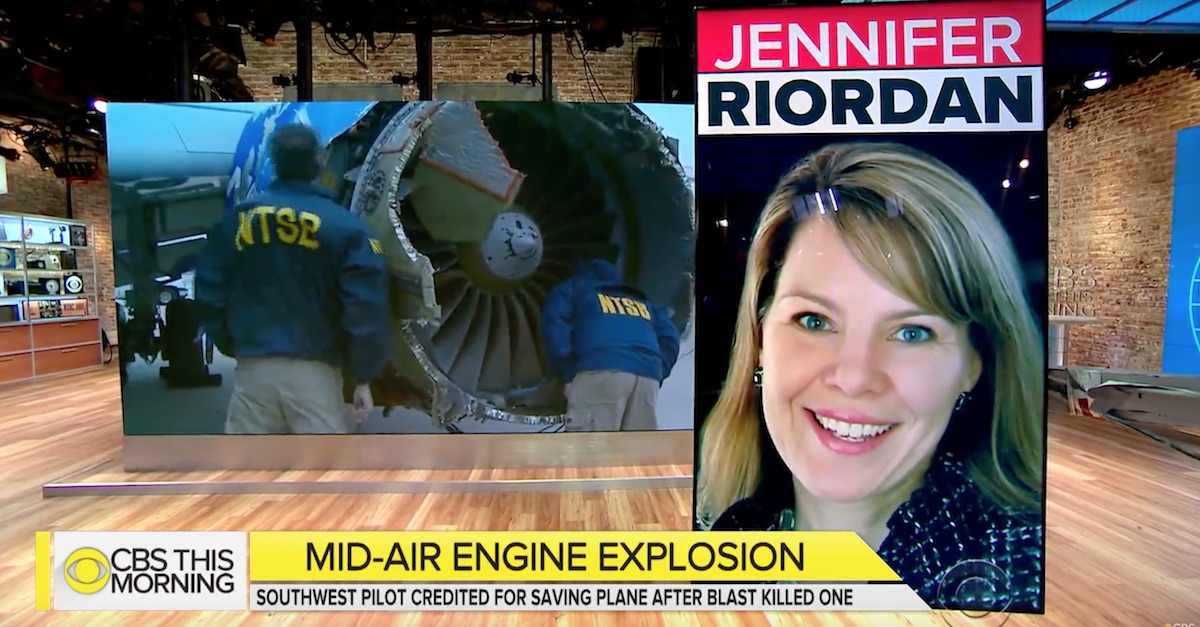 The shocking and horrifying death on a Southwest Airlines flight Tuesday of 43-year-old Jennifer Riordan, a married mother of two and Wells Fargo executive who was on a business trip, has been compounded by the report that the airline opposed a recommendation by the manufacturer of the engine that exploded to inspect certain fan blades within a year.
It seemed at first glance that this opened the possibility that there is a case for negligence and wrongful death, but one lawyer specializing in accidents of this kind whom Law&Crime spoke with said that it was much more than a possibility.
Andrew J. Maloney III, a partner at Kreindler & Kreindler, a law firm that focuses on mass disasters, aviation accidents, personal injury claims and complex civil litigation, told Law&Crime that there is "absolutely" a case, and there are rumors mechanics were told not to report safety issues during inspections.
"Yes there is absolutely a case for wrongful death and personal injuries due to Southwest's negligence," Maloney told Law&Crime. "There are rumors that Southwest mechanics were told to not report some safety issues during their inspections and maintenance. If true, that could be fraud and rise to a criminal level."
The Associated Press reported Thursday that engine manufacturer CFM International recommended in June 2017 that airlines run ultrasonic inspections on the fan blades of certain Boeing 737s, following a similar incident in 2016 where a Southwest Airlines Boeing 737-700 engine exploded while en route to Florida.
That plane landed safely, but the National Transportation Safety Board (NTSB) determined the engine failure was caused when a fan blade broke off due to "metal fatigue."
The latest incident, also involving a Boeing 737 and also determined preliminarily to be caused by "metal fatigue," unfortunately had deadly consequences.
NTSB chairman Robert Sumwalt said, just as with the other incident, a fan blade broke off and was missing.
"We are very concerned about it. There needs to be proper inspection mechanisms in place to check for this before there is a catastrophic event," he said.
The engine exploded and shrapnel smashed Riordan's window, sucking her partially out of the cabin and causing blunt-force injuries to her head, neck and torso that she would not survive.
Southwest reportedly opposed a recommendation by the engine manufacturer to require ultrasonic inspections of certain fan blades within 12 months, saying it needed more time to conduct the work.
The Associated Press reported that the airline opposed a proposal by U.S. regulators to make inspections mandatory.
The FAA has responded to Riordan's death by saying that within two weeks it will issue a directive to require ultrasonic inspection of fan blades of certain CFM International engines after a "certain number of takeoffs and landings."
Law&Crime has reached out to Southwest Airlines for comment, but a response was not forthcoming at the time of publication.
[Screengrab via CBS This Morning]
Have a tip we should know? [email protected]