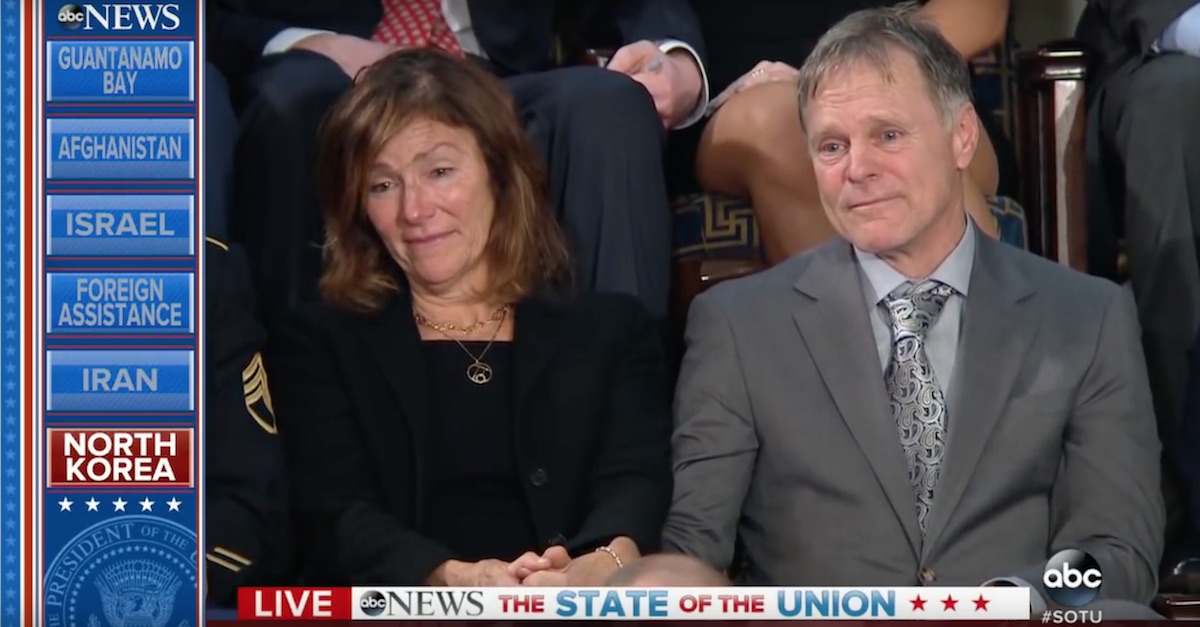 Fred and Cindy Warmbier, the parents of Otto Warmbier — the American college student who traveled to North Korea, was arrested for allegedly stealing a political poster, was forced to issue an apology on state TV during what's been called a "kangaroo court" session, and who was returned home 17 months later blind, deaf and "jerking violently and howling" with "unrecoverable" brain damage — have filed a lawsuit in U.S. District Court for the District of Columbia on Thursday against North Korea.
They are suing North Korea for the torture and wrongful death of their son, as well as for intentional infliction of emotional distress, and assault and battery.
The lawsuit comes at time just after North Korea said it would open dialogue with the U.S. and South Korea, and cease nuclear operations.
The lawsuit linked the detainment and ensuing "unrecoverable" bodily harm — which North Korea explained away as Warmbier having contracted botulism — to the "rogue" state's ongoing policy disputes with the United States.
Statements made by North Korea, including one blaming then-President Barack Obama for a lack of dialogue between the nations, were included in the filing to show that Warmbier's imprisonment and eventual death was done for political purposes:
Otto had acted "on an assignment from an anti-DPRK plot-breeding organization of the U.S." and the CIA.

"Although we had no reason at all to show mercy to such a criminal of the enemy state, we provided him with medical treatments and care with all sincerity on humanitarian basis until his return to the U.S., considering that his health got worse."

"Warmbier is a victim of policy of 'strategic patience' of Obama who was engrossed in utmost hostility and negation against the DPRK and refused to have dialogue with the DPRK."
The lawsuit also detailed how North Korea's explanations for Warmbier's life-ending injuries don't match up with facts:
Cognizant of its illegal actions and in an effort to explain how a formerly healthy 21-year-old man could end up in such a condition, North Korea has falsely claimed that Otto contracted botulism and was then given a sleeping pill. Otto's physicians conducted an electromyography test and found no evidence of botulism or the lasting nerve damage that would be expected had Otto contracted botulism in the past. Botulism also would not typically cause the cessation of blood flow to the brain that was the cause of Otto's injury. Nor would a sleeping pill be a treatment for botulism. North Korea's false explanations for Otto's condition demonstrate that is it covering up its torture and mistreatment of Otto while he was in North Korean custody.
The parents told The Washington Post that their son was "taken hostage, kept as a prisoner for political purposes, used as a pawn and singled out for exceptionally harsh and brutal treatment by Kim Jong Un."
"Kim and his regime have portrayed themselves as innocent, while they intentionally destroyed our son's life. This lawsuit is another step in holding North Korea accountable for its barbaric treatment of Otto and our family," they added.
Warmbier v DPRK Complaint by LawNewz on Scribd
[Screengrab via ABC]
Have a tip we should know? [email protected]