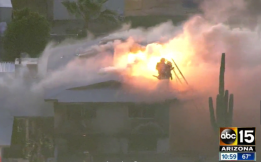 A Phoenix man shot four family members before being killed in a shootout with law enforcement officials early Tuesday.
Police responded to a 911 call from one of the victims saying they had been shot. They arrived to find the house ablaze and gunshots being fired. Officers put on breathing equipment and fire clothes before entering the burning house. The flames were so strong that firefighters fled from the building. Three police officers went to the hospital for smoke inhalation. At one point, a fireball blasted through an opening in the house.
Arizona's ABC15 reported that after the fire was extinguished, police searched the home and found the suspect inside one of the rooms. The man pointed a gun at the officers before being shot and killed. At that point, the flames reignited, and police escaped the building with the suspect's body.
Four gunshot victims were found at the scene. Two were still alive when first-responders arrived, but they later died in the hospital. The names of the suspect and victims have not been released, pending investigation. It is still unknown what exactly led to this tragedy, although according to ABC15 it began as a domestic dispute.
[h/t The Huffington Post, screengrab via ABC15-KNXV]
Have a tip we should know? [email protected]