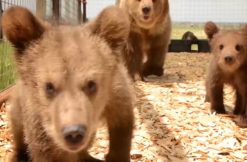 PETA and other animal rights groups filed a new lawsuit against the government on Monday. They say the US Department of Agriculture shouldn't have taken down records of alleged animal-abuse from its website.
"The lawsuit contends that the sudden February 3 removal of these documents was illegal because the Freedom of Information Act (FOIA) requires agencies to post frequently requested records on their websites," says a statement obtained by Law Newz. "The USDA itself has acknowledged that inspection reports were the most frequently requested records before they were made available online years ago."
As PETA lays it out, these reports covered puppy mills, laboratories, roadside zoos, traveling animal shows, and "other enterprises that use and exploit animals." Now they want the USDA to not only return these documents online, but to upload future posts ASAP without the defendants needing to submit FOIA requests.
You can read the full complaint, filed in U.S. District Court for the District of Columbia, here. We've reached out to the Department of Justice for comment.
The USDA did take down a lot of reports. They say they're trying to balance transparency needs with privacy, and made vague reference to litigation in a statement revised on Feb. 7:
In 2016, well before the change of Administration, APHIS decided to make adjustments to the posting of regulatory records. In addition, APHIS is currently involved in litigation concerning, among other issues, information posted on the agency's website. While the agency is vigorously defending against this litigation, in an abundance of caution, the agency is taking additional measures to protect individual privacy. These decisions are not final. Adjustments may be made regarding information appropriate for release and posting.
Michael Scuse, an Obama administration holdover, has been serving as Acting Secretary of Agriculture since Tom Vilsack stepped down on Jan. 13. However, according to The Washington Post, Vilsack did confirm that shortly before his resignation, he got a recommendation from an agency division to take down the records in order to save staff time. He declined to sign off on it because he felt he needed more time to vet it with transparency concerns in mind. (A Texas couple is in fact suing the USDA because the agency included them on a USDA database of alleged horse abusers.)
President Donald Trump has tapped former Georgia Governor Sonny Perdue to head the agency for the long-term, but a confirmation hearing is still pending.
[image via PETA: bears reportedly rescued from roadside zoo]
Have a tip we should know? [email protected]