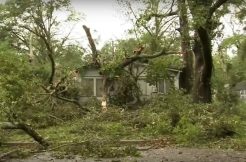 There's a new federal lawsuit demanding that Georgia extend the voter registration deadline for the coastal area of Chatham County because of Hurricane Matthew. The Plaintiffs, which includes the local NAACP, also request that the extension affect the entire state. If they're the successful, Georgians would have until October 18 to sign up .
From the complaint, filed Wednesday in the U.S. District Court for the Southern District of Georgia:
Chatham County government offices, which opened today [October 12], were last open on Wednesday, October 5. Many prospective voters thus lost the ability to register for the last six days of the voter registration period. For much of the interim period, the county was under a state of emergency and an evacuation order due to Hurricane Matthew. Matthew hit Chatham County as a Category 2 hurricane on Friday, October 7, and caused massive damage, substantial flooding, and a loss of power to more than a hundred thousand county residents.
Georgia's voter registration deadline was Tuesday, October 11. Hurricane Matthew started skirting Florida's eastern coast on October 7, making its way north and finally making actual landfall at South Carolina on October 8. A Goldman Sachs report cited by The Associated Press estimated that the storm likely caused $10 billion in property damage.
Georgia Secretary of State Brian Kemp, one of the defendants, had encouraged people to plan ahead, and register to vote online and at mobile centers, but has denied requests to extend the deadline.
His press secretary Candice L. Broce answered the lawsuit in a statement sent to LawNewz.com:
Under Secretary Kemp's leadership, it has never been easier to get registered to vote in Georgia, where individuals can register to vote or update their information online, via text, or by using the office's free mobile app 24 hours a day, 7 days a week. With his Student Ambassador Program, there are now over 100 Georgia high schools with over 800 Student Ambassadors in communities across the state getting their peers registered to vote and engaged in the electoral process. Just a few days ago, Secretary Kemp also announced four new videos on voter registration, absentee voting, advance in-person voting, and Election Day voting for Georgians. Leading up to the deadline, the online voter registration system has been functioning as expected, including this past Monday and Tuesday. We have been preparing for this election for over a year, and the office's ramped-up outreach efforts on social and traditional media have delivered incredible results. For these reasons, we find it difficult to reconcile these groups' claims against what we have seen and heard in our service to Georgians across the state.
This isn't the first lawsuit of its kind this election season. On Wednesday, a federal judge extended Florida's voter registration deadline to October 18. That battle was politically charged with the plaintiffs being the state's Democratic Party: Their previous request for an extension had been denied by Governor Rick Scott, a Republican. Pundits have generally argued that the extension will benefit Democrats more than Republicans.
You can read the Georgia lawsuit below.
Voter Registration Lawsuit by LawNewz on Scribd
Update – October 13, 3:13 p.m.: Updated with a statement from Kemp's Press Secretary.
[Screengrab of Savannah, the county seat of Chatham, via Fox 5 Atlanta]
Have a tip we should know? [email protected]