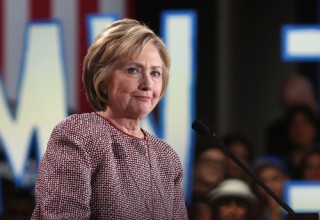 Attorneys with the U.S. Department of Justice say they cannot make public a classified FBI declaration because it would "adversely affect the ongoing investigation" into Hillary Clinton's private email server. The recent filing by DOJ attorneys, obtained by LawNewz.com, is significant because it not only acknowledges the ongoing federal probe, but also asserts that if the declaration is made public, it could "reasonably be expected to interfere with enforcement proceedings."
The DOJ's memorandum is part of a FOIA lawsuit that was originally filed in federal court by Vice News reporter Jason Leopold. Leopold is seeking Clinton's emails that the DOJ obtained from her private server. He is also seeking correspondence between the FBI and Clinton referencing the Clinton email server.
In March, the government filed a motion for summary judgement in the case, and incorporated this classified declaration as one of the supporting documents. Leopold's attorneys argued that the declaration should be made public, or the DOJ should show cause for why it must be kept secret. On Tuesday, DOJ attorneys filed an memorandum in opposition to plaintiff's motion to show cause.
The DOJ says in its filing:
Records responsive to Plaintiff's request that are subject to FOIA relate to a pending investigation. The FBI has stated publicly that it received and "is working on a referral [from] Inspectors General in connection with former Secretary of State Clinton's use of a private email server. The FBI therefore submitted a classified in camera, ex parte declaration to provide the Court with additional details to demonstrate that responsive information was properly withheld, and explained on the public record that this was the purpose of the in camera declaration.
Leopold's attorneys argued that at the very least the DOJ should be required to publicly file a redacted version of the FBI declaration. Attorneys for the DOJ said they can't even do that: "there is no need to release a redacted version of an in camera declaration when doing so would "merely duplicate [] material already in the public record."
LawNewz.com reached out to Leopold's attorney Jeffrey Light, but have not heard back.
Here is a copy of the filing:
Update 9:00 am 4.28.2016
From Leopold's attorney, Ryan James, sent us this email about the case:
"We are looking closely at the government's opposition and intend an appropriate reply to ensure the proper process is followed and that we have access to all unclassified information from the classified, ex parte declaration to which the plaintiff, Mr. Leopold is entitled."
Have a tip we should know? [email protected]
Rachel Stockman - President / On Air Host